Bailey The Service Dog
July 13, 2020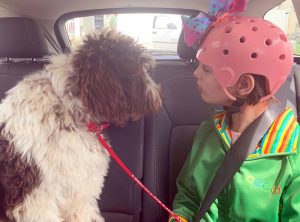 Yard sale today will raise funds for service dog for 11-year-old girl
Mark and Olwyn Wismer need $25,000 for a dog.
Crazy, you say? Hardly.
This service dog will have a dramatic impact on their special-needs daughter, Evie. It will change the 11-year-old's life for the better.
"People have no idea how much chronic pain she is in," Olwyn Wismer said Friday.
Evie Wismer has cerebral palsy, narcolepsy, and other developmental delays. She often uses a wheelchair and wears a helmet as she is prone to falling.
Bailey, an 11-month-old Newfoundland poodle mix called Newfypoo, is being trained by Dogology NW in Liberty Lake, Wash. The Wismers, of Coeur d'Alene, need to have $20,000 by the time his initial training is completed, expected to be in September. They'll need another $5,000 after that for continued training.
They've raised about $12,000 and are holding a yard sale today, 8 a.m. to 3 p.m., at 7920 N. Mt. Carrol St., Dalton Gardens.
Friends and family have donated hundreds of items, including furniture, exercise equipment, skis, tools, hardware, books, pictures, dental chairs and toys.
Whatever people buy will take the Wismers closer to their goal. It's critical that they get there.
"Bailey will help in a lot of different ways," Olwyn Wismer said.
The Wismers, who have adopted three other children, adopted Evie when she was 18 months old.
Olwyn Wismer said that sometimes, when people hear "service dog," they think it's a luxury. It's anything but.
Evie is very vulnerable and can be easily frustrated in trying to just do some basic things.
With her narcolepsy, she can fall asleep anytime, anywhere, and has. With CP, her balance and mobility are extremely limited and she can fall, and she is often in pain.
She really needs a service dog with her at all times, Olwyn said, to both comfort and protect her.
Bailey will help Evie to focus and prevent Evie from harming herself through what is known as stimming, which is scratching at her skin and being unable to stop.
"She's so excited about having a dog that will be her friend and not be afraid of her," Olwyn Wismer said.
Having Bailey, she said, will improve quality of life for Evie and her family.
Bailey and Evie have spent time together and have already bonded.
"They are best friends," Olwyn Wismer said.