Basil The Service Dog
May 5, 2020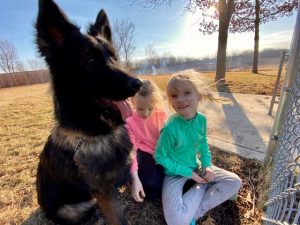 Meg Gardner witnessed the Mother McAuley High School community work together to help her family many times this year.
The Gardner Family was the recipient of McAuley's National Honors Society (NHS) fundraising effort, an annual effort organized to help an alumna of the all-girls school.
For the Gardners, Meg and her husband Greg, the fundraising efforts will go toward the purchase of a service dog for their oldest daughter, Maddie, a 7-year old who has autism.
Then, the Mother McAuley Class of 2020 added to the fundraising in a big way, raising $1,000 to aid the fundraising effort.
Gardner is the dean of upperclasswomen at Mother McAuley.
"We were so touched by the effort, just so humbled for what the seniors had done," Meg Gardner said. "These 17- and 18-year-old girls did this for us. It's magic. We were just so humbled by their compassion that they have."
Mother McAuley had already organized several fundraising efforts, including at a late February home basketball game where former teammates, friends and family were in attendance for the event that raised around $9,000.
The focal point of the fundraising was initially to be an ice cream social at the school, but the event was canceled due to the COVID-19 pandemic.
However, senior Molly Curley and the McAuley Senior Advisory Board vowed to replace the social.
"We wanted to put something together, so we thought of raising money ourselves," Curley said. "It was just whatever you can donate, anything you can do to help with Mrs. Gardner and her family. It was a no-brainer for all she's done for us. Everyone loves Mrs. Gardner."
From there, the momentum started to build.
Senior Molly Maloney, the student government president, started by sending out a video that she made describing Maddie Gardner's story.
The senior class started to spread the world with calls, texts, group texts, Zoom calls and posts on Instagram and Facebook.
Any donation of any size was appreciated, and within a day, over $500 had been raised.
"We had a rough start where we had a few donations here, a few there," said Maloney (Beverly, St. John Fisher). "We kept promoting it, and then a bunch of donations starting coming in. We were at $500 and then $600 and then we had $1,000. It felt really good to be able to do this."
Senior Devyn Petrowski (Beverly, St. John Fisher) is on the senior advisory board and was also a member of the volleyball team of which Gardner is the assistant coach.
"We expected to raise the money, but we were surprised that we were able to do it so fast," Petrowski said. "We pushed it really hard. We wanted to show how much we appreciate what Mrs. Gardner does for us. It felt really good to support something that's very important to her."
With the donation, the Gardners will purchase the service dog for Maddie. The process of acquiring a service dog can take up to three years, but the process came together quickly for the family.
The Gardners have already met Basil, a 2-year-old German shepherd who will be Maddie's service dog. The family will bring the dog home for good at the end of June. Meg said Basil immediately connected with the family, especially Maddie.
"Having the dog, it really helps with her sensory disorder, calming her down, protecting her, all that good stuff," Gardner said. "Greg took the kids to see Basil the second time, and as the car pulled up, he came right up to the car. He was already her protector and just really took to her. This will really help her in so many ways."
Awaiting Basil's arrival at the Gardner household in June, the McAuley seniors can't wait to see their volunteer work come together for Maddie, Basil and the family.
"I didn't know much about the story, but I went on Kairos with Mrs. Gardner this year, and she talked about it," Maloney said. "You never know what a person goes through, so it's really cool to do all this. Our entire senior class stepped up. Everyone took a part."
Gardner, a 1999 McAuley alumna, has been a teacher at McAuley since 2005, and she said she can't thank the Mighty Macs enough for the effort of the Class of 2020.
"I've always thought McAuley was a magical place because of the students, teachers and the community," Gardner said. "It was just so incredibly thoughtful and just so much good, especially by our youth who came together to work for our daughter."