Buddy to live up to name as therapy dog
April 6, 2020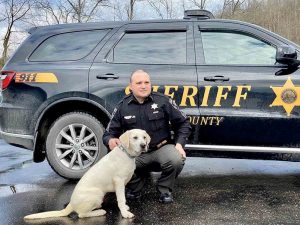 Dogs are called man's best friend for a reason.
Students in the Tyler County area will have a new best friend, Buddy, a dog recently acquired by the Tyler County Sheriff's Department to be used as a therapy dog in schools.
Buddy is a 6-month-old Labrador retriever who has been trained specifically to give all the love and support a dog can offer.
According to Chief Deputy Shannon Huffman, the idea came from the school resource officer, Sgt. Mitch Corley. The department was in contact with someone who raises these types of dogs and after approval from the county commission and the superintendent, Buddy became a member of the team.
Huffman said Buddy is coming at a good time.
"We had three juvenile deaths within our school within the last eight or nine months, all from the same class. It caused a lot of emotional type trauma," Huffman said. "(We) looked at it as a good barrier break between law enforcement and kids in our community to help bridge that gap."
As soon as schools resume, Buddy will report to Tyler Consolidated and will be considered a full-time employee. Buddy, along with Corley, also will make rounds to the elementary schools.
"Although it's too soon to determine the impact this outreach program will have in Tyler County, one thing is certain: Buddy takes his mission to love his 'humans' very seriously," the sheriff's department said in a press release.
Corely and Buddy will work with principals and school counselors to make sure students have access to Buddy's snuggles whenever they need it.
"Some kids come to school and have had a bad day or night before and just need to sit and talk. This dog will help facilitate that," Huffman said. "There's nothing better than a lovable dog to love on, to calm emotions and bring things back into perspective."
Buddy will also be trained to assist the department by tracking missing persons. Huffman will be working with Buddy to train him to be able to track scents, footprints and any other signs to find a missing person.
The training should only take about three weeks but Huffman said they will wait until Buddy gets a little bit older. After his training, Buddy will be able to track the missing person through the scent of a personal item.
"If a child was lost in our area, it would be beneficial to have a dog on hand with great tracking skill," Corley said. "Buddy has already shown promise in this area and I am hopeful we can hone this ability to further benefit the community."