Can't Wait To See Her Grow
May 8, 2020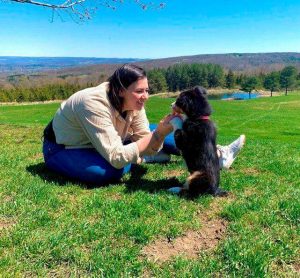 PLATTSBURGH — About a month ago grad student Emily Anderson drove downstate to pick up pup Paisley Mae and experienced her first-ever moments as a dog mom.
While the SUNY Plattsburgh student, going for her masters in education, thought some considered pet parents to be more like owners, she disagreed.
"I've always thought, 'I love puppies. I wish they could stay small forever,'" the 23-year-old said. "But, as soon as we picked up Paisley, the first thing I thought was, 'I can't wait to see her grow. I can't wait to see her get bigger, to see what she looks like and what she likes.'
"It was a total 'mom' moment."
EMOTIONAL SUPPORT
Anderson and boyfriend Joseph "Joe" Girard picked up the Australian Shepherd from a farm in Fultonville.
The now nearly three-month-old puppy became Anderson's first personal pet.
"The reason I decided to get a dog now was because Paisley is actually an emotional support animal for me," she said.
"It's been a long time coming, working through different things, personal things, but especially given the current situation that we're in," she continued, in reference to the ongoing COVID-19 pandemic.
"It's hitting a lot of us in different ways."
'NOW IS THE TIME'
To Anderson, who will celebrate her 24th birthday later this month, caring for a pooch was a way to bring purpose and joy.
"It definitely has," she said. "It's her job and she's doing a great job at it."
And with the pandemic keeping her self-quarantined and at home more often than not, Anderson felt like "everything was coming together."
"I've talked to my parents about potentially having an emotional support animal in the past, but they just didn't think it was the time," she said.
"My mom and I had recently been speaking together and she said, 'You know what, Em? I think now is the time.'"
PAISLEY MAE
The Australian Shepherd was described as playful, friendly and high-energy.
"She always wants to be doing something," Anderson said.
"We have to make sure that we keep her exercised or else she's crazy. We got her all of these rubber toys, but when she got home, all she wanted to do was play with rope tassels," she continued.
"So, we went out and got her a bunch of rope toys — which she loves."
Anderson said the baby pup was very food-motivated, "which is awesome. We can use tiny pieces of treats to train her and she will do absolutely anything you ask."
While staying home was helpful when training Paisley, Anderson said they were teaching her how to be alone, too, for when life returned to normal.
"We work on her going into her kennel every day and spending some time alone," she said.
"Originally, I wasn't going to look for a puppy, but then I thought, this might be the only time in my life where I could have a puppy."
THE BIGGEST CHALLENGE
Anderson said puppy life came with its own set of challenges, like getting up early, cleaning up after accidents and puppy biting, but thought the biggest challenge was on the human side of things.
"It has been on the emotional-support-animal end, and being a little misunderstood about that," she said.
"That part has been a little challenging, because I think mental health overall is misunderstood."
The grad student explained emotional support pets as one of many outlets that could help people feel at their best.
"For some people it's medicine, or therapy and, for some people, it can be taking care of an animal," she said.
"If you don't have that connection with animals, then you might not understand it, but it's definitely there for other people. Regardless of what level someone is at, if there's anything that they can do to make them feel better, I don't see how there is any reason for us to want to stop that."
'REALLY REWARDING'
With her first Mother's Day on the horizon, Anderson said her Paisley Mae was 100 percent her "baby."
"She has all of the needs of a baby, and, much like a baby, she has the rewards, too," she said.
"Overall, it has just been a really rewarding experience. I need her just as much as she needs me."