Carolina Puppies
May 26, 2020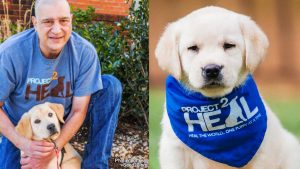 Charlie Petrizzo has a calling to nurture puppies to become successful service dogs for those in need of healing.
Petrizzo is the founder and CEO of Project 2 Heal, a nonprofit organization that breeds and trains Labrador retrievers and donates them to service-dog organizations.
"The reason we do what we do is because most service dog organizations do not have a breeding program," Petrizzo said. And as a result of not having a breeding program, they have to look through shelters to find dogs to train.
According to Paws With A Cause, 1-in-12 rescue dogs have the temperament to be placed as a service dog.
This failure rate can leave service organizations with lost time and resources and extend the time to place service dogs — which can sometimes take over three years.
Through its nature and nurture program, Project 2 Heal works to reduce the time and cost associated with training a service dog and pairing it with a person in need.
"We breed, nurture, socialize and train purpose-bred Labrador retriever puppies so that we can donate them to service-dog organizations across the country," Petrizzo said.
Over the last 3 years, the organization has donated over 150 puppies to service-dog organizations.
These puppies go on to be furry companions of individuals with disabilities, special-needs children and veterans having trouble adjusting to life after war.
"Many of our organizations serve a lot of veterans," Petrizzo said. "I think what the service dogs do for those veterans is they become a brother or comrade."
Petrizzo went on to describe the relationship between a service dog and a special-needs child as a "social lubricant," meaning it works to grease the engine of what some would call a friendship.
Project 2 Heal was awarded $3,500 as the SEED20 3rd Place and Community Vote winner.
Created by Social Venture Partners, the annual SEED20 program identifies, highlights and connects the community to the region's most innovative ideas for tackling pressing social challenges.
The innovations can be developed by an individual or startup with a well-formed idea, an emerging nonprofit or a well-established nonprofit with a new program.
Some of the Charlotte region's most innovative thinkers challenge themselves and the community and compete for cash rewards.
Each year, over the course of two months, a class of 20 nonprofit participants receives training, coaching, feedback and mentoring on how to tell their story succinctly and powerfully — who they are and why they matter.