Chappie Checks In
May 7, 2020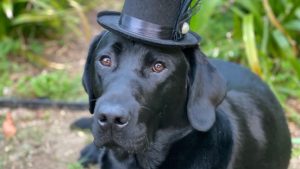 Once a regular fixture in the newsroom and studio, our service puppy in training "Chappie" hasn't been to work since mid March.
Channel 3's Kathryn Daniel is raising Chappie for Canine Companions and he has been homebound during the COVID-19 crisis. She shares how she's keeping him on track
with his training, much of which is mastered in public. Here's her story in her words.
We call him "Happy Chappie". Our 65 pound puppy just turned one and is three quarters way through his time with us.
So far, he's mastered twenty five commands and needs to learn five more before November.
We used to practice mostly on the go, in stores, restaurants and on the job. I took Chappie almost everywhere with me so he had lots of "real world" experience and exposure.
Since that's out for now, my husband Brion and I have turned to Brittney Clark. Clark has trained three working service dogs, with one more set to graduate soon.
Milly is latest puppy in training and Chappie's very best friend. They'll go to puppy college together in the fall. Clark said, "Milly is very high energy so she's not getting as much brain power, as much thinking since we've been in quarantine so she's been a little bored."
Clark works hard to keep Milly's mind and body busy. She laughed, "A lot of swimming, a lot of walks, a lot of play dates with Chappie."
One way is the "Kibble Challenge". It's not a formal command, but a self-control exercise. To master it, they can't make a move for the kibble on the floor or on their paws. That's hard for a chow hound like Chappie, but he's getting better.
Clark is also making common commands more complicated. "If she's out in the yard and I say 'sit' it doesn't matter where she is, I want her to sit there. I don't want her to come to me, I want her to sit right where she's at," explained Clark.
Shelly Locke is the head trainer for the Southeast Region of Canine Companions, the non-profit Chappie and Milly belong to. Locke said to keep Chappie sharp, we need to work with him about thirty minutes a day. She elaborated, "Five minutes here, ten minutes there. Especially with a young puppy, even a year old, beyond would bore them out."
Chappie has been housebound for about six weeks. I worry he might lose his public manners. Locke told me to not fret about that. She said, "I think once you are able to get back out into that routine he's gonna fall right back into it."
She suggested we ease him back into outings when the time is right and things are deemed safe to do so. "Maybe do a couple of short trips where you're really focusing on him to see how he's doing," Locke advised
Locke cautioned us to just take it slow and not overwhelm him. That will not be not a problem for this laid back puppy, I'm the worry wart in our duo. In fact, Chappie is so calm I've wondered if he's too relaxed to be a working dog.
Locke laughed and told me that shouldn't be a problem. "Those slower moving, sluggish kind of Eeyore dogs sometimes make a really great service dog."
Nationwide, Canine Companions has 400 service dogs ready to graduate and meet their teammate, but for now those matches are on hold for the time being.
Tomorrow morning we'll share how they're continuing their mission with all six campuses temporarily shut down across the country.