CLC students relax with therapy dog visit
March 27, 2020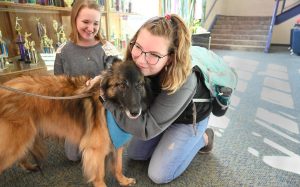 A Central Lakes College counselor said therapy animals have become a trend of sorts in higher education, especially with students who may have animals at home they're missing or who just need a simple way to destress and lessen their anxiety. Goldie and two other therapy dogs were on campus Monday to help students relax and will come to both the Brainerd and Staples campuses on a monthly basis.
Eyes get wide, voice pitches rise and feet stop in their tracks. There's only one thing that makes college students — and even instructors — act in this way: dogs on campus.
Students at Central Lakes College reacted in exactly that way Monday, March 2, when they caught sight of Chance, Goldie and Jet, three therapy dogs sent to make the day a little less stressful.