Conroe car crash survivor seeks help
April 7, 2020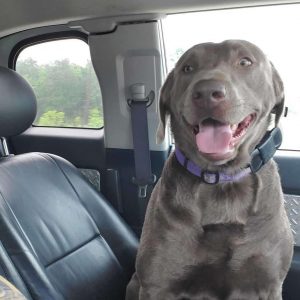 A car crash survivor who is recovering from her injuries is pleading for the Conroe community to help her find her dog.
"Exhausted and devastated," Kristi Hinds continues to post on social media and missing pet pages that she has lost her dog Grace after hydroplaning and hitting a tree on Saturday at New Bethlehem Baptist Church at 14630 Millmac Road in Conroe.
"Grace bolted out the door when three people were pulling me out of the smoking vehicle," Hinds, who has used Grace as a service dog, wrote.
While Hinds has been released from the hospital and continues to recover with a broken leg in her hometown of Orange, she still needs help finding Grace and getting her back home.
Grace was last spotted on Saturday in a field across from neighbors on Willis Waukegan Road. She has on a purple collar and black shock collar with her name and the phone number 409-779-9373. She does not have a chip.
"She is so scared and skittish," said Hinds who is normally around her dog 24/7. "Grace is a chocolate lab that looks silver. Please let me know if you have any information or find her."