County Launches First K9 Unit
May 15, 2020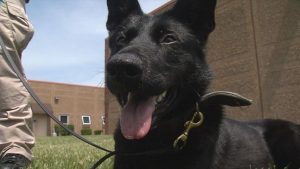 The Jackson County Sheriff's Department is creating its first K9 Unit thanks to a federal grant.
The sheriff approached Sgt. Ben Rudolph about submitting a proposal for a Department of Homeland Security SHSP grant, which is a terrorism-based grant, in order to develop a K9 Unit. Jackson County was awarded a grant for roughly $25,500 to cover the cost of a dog, the necessary training and equipment. Rudolph said after doing research for the proposal he requested to be part of the team, and the sheriff assigned him the position. "It's something I've never done before, something that the department has never done before," Rudolph said. "So I'm honored to be able to be part of that."
It's been a lengthy process, but 15-month-old Nyx recently arrived to Jackson County.
"Nyx is really, really good," Rudolph said. "This is awesome, definitely a new chapter. We're just hoping that we together as a team can be a positive impact in the community."
Right now, Nyx and Rudolph are getting to know each other and building a connection. Then the official eight-week training program will start on June 1.
"It's going to be an intense training process, and it's going to be hard for both of them," said Glenn Jackson, the owner of Police Service Dog Consulting.
Jackson was a K9 officer with the Jeffersonville Police Department for decades, and now he contracts with local police departments to help build their K9 Units. The Jackson County Sheriff's Department has contracted Jackson for Nyx's training.
"Her primary purpose is to locate," Jackson said. "Narcotics, evidence that's been dropped, lost people, criminals that have ran from us, building searches."
Jackson said police dogs are not trained to bite or attack people out of aggression. While they can and will bite, Jackson said, it's in response to a person's aggressive actions.
And so far, Nyx shows good characteristics to be a successful police dog.
"In the selection process for Nyx, one of the things that attracted me most to her — which I'm looking for in any police dog — is her what we call hunt drive," Jackson said. "Her drive to hunt for things."
He added that a K9 Unit can be very effective for community outreach, building trust in the community and making children feel comfortable during stressful situations.
"It's going to be exciting for the community," Jackson said. "She came as a grant, but this is the community's dog. Jackson County, this is your dog."
Nyx and Rudolph should complete their training by the end of July. Then, Nyx will be on duty from noon to midnight when Rudolph is scheduled to work, and the duo will be prepared to respond when called out outside of their regular shift.