Dingo Caught On Camera
June 15, 2020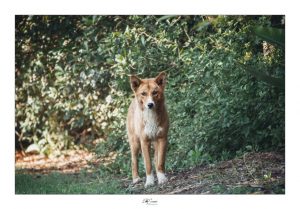 "I have never seen a more photogenic animal," he said.
Mr Summers spotted the dingo on Ranch Avenue, which is close to the national park. It's only the second time he's seen a dingo in the area, having lived there for more than a decade.
In January, Mr Summers passed another dingo on the street in the mid-afternoon heat as he headed to Glenbrook swimming pool to cool off.
Hailing from Scotland, he said he found all Australian wildlife fascinating, and was there to observe and document what he saw.
It follows letterboxing by the National Parks and Wildlife Service warning about wild dogs in the area and advising residents not to approach or feed the animals.
Cameron Chaffey, the acting director of Blue Mountains NPWS, said the wild dogs were not encroaching in other Blue Mountains villages and had been dispersed at Glenbrook in the past week.
He said while the Euroka Clearing campground at Glenbrook had been closed due to coronavirus restrictions, the wild dogs had been coming through the national park. With this campground open again and more people about, the dogs had dispersed.
Meanwhile, the NPWS has been conducting aerial 1080 baiting to control wild dogs and foxes at nine locations in the Upper Mountains.
"It's post-fire conservation recovery in areas burnt by fire that get wild dogs encroaching and foxes, which puts pressure on the native wildlife," Mr Chaffey said.
With great swathes of understorey wiped out by last season's bushfires, wild dogs and foxes have been able to access more bushland, preying on small mammals that have little ground cover in which to hide, he said.
Mr Chaffey said the aerial baiting would continue several times a year over the next several years throughout the wider Blue Mountains area.
The baiting is currently occurring at: Andersons trail, Dunphys Campground, Evans Lookout, Grand Canyon track, Ingar Campground, Mount Banks Summit walk, Mount Hay Road in Leura, Mount Hay Summit walking track and Narrow Neck trail in Katoomba.
Signs advising of the baiting have been installed in these areas. Fresh meat, containing 1080 (sodium fluroacetate) poison is used for the bait.
NPWS advises that pets and working dogs must be restrained or muzzled in the vicinity and must not enter the baiting location, as 1080 is lethal to cats and dogs. Domestic pets are not permitted in NSW national parks and reserves.