Dog Daycare
September 10, 2020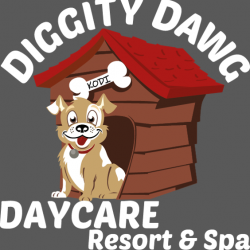 Diggity Dawg Daycare, along with the Kutztown University Small Business Development Center, will present a Grand Opening and Ribbon Cutting ceremony at 11 a.m., Sunday, Oct. 4. Diggity Dawg Daycare is located at 5100 East Penn Avenue, Wernersville, PA 19565. Please join us and experience a new and valuable service coming to Wernersville.
The grand opening is a free, public, family community event. Social distancing will be observed and face masks will be required. Come out and checkout the daycare, lodging and grooming services available and why the business is a perfect fit for the community.
Nicole and Eric Ray have opened Diggity Dawg Daycare in hopes of creating a meaningful service that, in return, creates a more connected community. Diggity Dawg Daycare is a safe, fun and healthy place for a dog to spend time while the owner is away at work or other daily commitments.
Nicole and Eric worked in the corporate world for nearly 30 years. After getting married in 2014, the Rays introduced Kodi, a German Shepherd, into the family not knowing he would be the inspiration for their new business venture. They found their lives were centered on him and while Kodi needed more attention during the day, the Rays needed something more exciting for work. The inspiration to open Diggity Dawg Daycare had finally come to life.
Nicole and Eric have always been attracted to the idea of providing a service to help animals. They feel that the daycare and grooming industry is a perfect fit for them and the Berks County area. Diggity Dawg Daycare promises to provide your dogs with a clean, safe, fun and stress-free environment that welcomes dogs of all sizes and breeds. This is a new and unique service that is uncommon to the Berks County area.
Diggity Dawg Daycare was founded in 2020 and opened in January 2020. This business will allow for residents to experience a dog facility like no other. It is so much better than your dog sleeping on the couch waiting for you to get home!