Dogs Go To Court
September 14, 2020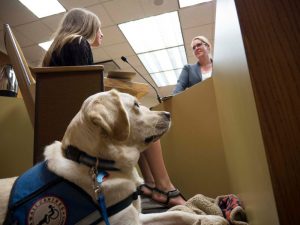 A child goes into an imposing and unfamiliar place and has to talk to strangers about a traumatic event.
Attorneys ask her difficult questions about unpleasant topics.
There is no one to hold her hand. No one to pat her on the head and whisper quiet encouragement to her. No hugs.
But, she is not alone. Throughout the court process, she has had a companion.
One who does not judge her… does not doubt her.
And that companion is allowed to sit with her in the witness box.
Warren County Adult Probation is in the process of bringing a facility dog to the Warren County Courthouse.
Probation Officer Matt Gernold has received approval from the county, confirmation from Susquehanna Service Dogs, and confirmation from entities that will help with funding. It will be a while yet.
"When I was put on the waiting list in April, they said it could be anywhere from a year to a year-and-a-half," Gernold said.
When a suitable Labrador or golden retriever, or a mix, is selected and trained, Gernold will be called for his own training. He will be trained to be the primary handler for the facility dog and will work with it for more than two weeks before returning to the county.
"A facility dog is a trained dog, just like K-9 Nic or Dina," Gernold said. "The difference is, a facility dog is a therapy dog. It assists victims — both juveniles and adults – in testifying. Anyone who has any kind of trauma."
Gernold went on a trip to Seattle and attended the International Facility Dog Conference in 2018.
"There had to be 100 to 150 handlers there," he said, from all over the United States, as well as France and Canada.
"Getting to go to that conference and talk to the handlers was really eye-opening and a really great experience," he said. "I thought it would be awesome for our county to have one."
"Anyone can benefit from the dog — 90 percent of our offenders that are on probation have some kind of trauma in their past," Gernold said. The dog may help "anyone who would come for a probation appointment … if they feel like they can open up better with their probation officer. The dog is also going to go up to Treatment Court and help all those people as well."
"For children in the county that have to testify or go through forensic interview, having that non-judgmental presence can make a real difference," he said.
The first step in the justice system can be a very difficult one for children.
The dog could be there with them during a forensic interview at the Children's Advocacy Center.
"Everyone knows what a dog can do," he said. "Having a dog around, whether you're a victim or not, just helps people open up and talk more."
The facility dog's services will be offered to all who might need them.
"We'll let them know," he said. "Anyone that feels like they would benefit from that option will be able to use it."
"It's totally voluntary," Gernold said. "If they feel they would benefit, they would be totally welcome. On the other side, if they feel they don't need one or don't want one, they would not have to."
There is no requirement that someone would have to have the dog present. Some people are afraid of dogs. Some are allergic.
The research indicates that having a dog in the courthouse is not going to cause allergic reactions in people that do not have close contact with it, Gernold said.
Therapy dogs generally have limits on how long they can be asked to do their work.
"A facility dog doesn't have a time limit," Gernold said. "If the trial takes four hours, five hours, the dog can be there the whole time."
Like the humans in the courtroom, the dog will need breaks.
But, if the dog is in the witness box with someone who needs it, the dog will stay there faithfully and quietly.
Typically, if the dog is to be in the witness box, the jury will be excused while the witness and the dog are brought in.
"The dog will sit at the witness's feet," Gernold said. "They're more than content to sit there. The jury never even knows that the witness has a facility dog."
Gernold will be trained as the handler, and there will be a secondary handler, but the dog will be able to do its work in the absence of both of them.
The dog will live with Gernold – and Susquehanna will be checking the dog's new housing before final approval.
The Warren County Canine Foundation has approved spending the $5,000 that it costs to have the dog trained and provided to the county.
Gernold said the animal's food will be provided by Purina through the same program that provides food for Nic and Dina.
Russell Veterinary Clinic has agreed to donate all veterinary care, Gernold said.
County dollars will be used to pay for Gernold's training-related expenses.
Gernold initially tried to secure a facility dog from a program that gives them, free of charge, to qualified applicants.
"We applied at a place called Canine Companions for Independence," he said. "They give you the dog for free."
But, many agencies apply there and Warren County's application was denied.
He looked for another fully accredited provider and found one in Pennsylvania.
"We ended up going through Susquehanna," Gernold said.
The entity wants to make sure its dogs are going to places where they will be able to help and where they will be treated properly.
Gernold had a virtual face-to-face interview with the head of the organization, he said. That went well and the county was placed on a waiting list.
"They are going to come up to Warren with the facility dog," he said. "They will tour the courthouse, tour my house. Meet with department heads."
If they are satisfied after the meetings and the tours, the dog will start working in Warren County after Gernold's training.