Dogs Terrorized
September 9, 2020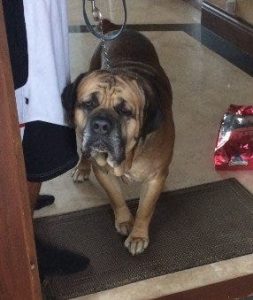 Pahokee native Ray McDonald, 35, an all-pro NFL lineman whose career was cut short by allegations of domestic violence, is now facing a lawsuit alleging his two 115-pound Corso dogs terrorized residents at the Foxe Chase development.
The lawsuit alleges McDonald's dogs were allowed to roam freely through the gated community of 43 single-family homes west of Delray Beach. One of the dogs, Brutus, attacked Brandon Susser on Dec. 19, 2017, forcing him to seek medical attention. A property owners association board member was attacked three months earlier, barely escaping serious injury, the lawsuit alleges.
On behalf of his son, Brandon's father, Gary Sussser, sued McDonald and Jeffrey Cohen, president of the Foxe Chase Property Owners Association (POA), along with Superior Association Management, the company that oversees the community.
The lawsuit claims McDonald lied to the POA about the history of his dogs, Brutus and Tank. McDonald told the POA that no one had ever complained about either. However, Brutus was labeled a "dangerous dog" in May 2015 by animal control officials in San Jose, Calif., where he attacked two people over a two-week span. Both victims required medical treatment. Two years later, McDonald bought a six-bedroom house at Foxe Chase for $2.5 million. He brought Brutus and another dog, Tank, with him.
McDonald was a starter for the San Francisco 49ers from 2011 through 2014, when he was released following sexual assault charges. In 2015, he signed with the Chicago Bears but was released two months later after his arrest on domestic violence and child endangerment charges.
Because of his arrest record, the POA had reservations about approving McDonald's application to buy a home at Foxe Chase, but the threat of a lawsuit resulted in the POA approving the transaction, according to the lawsuit.
However, attorney Susser has been unable to pursue the lawsuit because he can't locate McDonald, who moved in 2018 and sold his Foxe Chase house in April 2020. Susser has taken the unusual step of serving McDonald through the Florida Secretary of State because McDonald continues to hide his whereabouts.
West Palm Beach-based Buccaneer Realty, McDonald's real estate agent, is facing contempt of court charges for refusing to provide information to Susser. McDonald's father has also been subpoenaed.
McDonald played on a state championship team at Glades Central High School in 2000 and helped the University of Florida win the 2007 national championship.
"We will find him," said Susser. "This suit is not going away. McDonald needs to know that. What kind of man would do what he did and then not even apologize? McDonald is playing a game of hide and seek. It will not work."
Susser says he has three private investigators looking for McDonald. The Sussers lived next door to McDonald at Foxe Chase. The lawsuit claims McDonald failed to repair a gap in his fence that allowed Brutus and Tank to move throughout the community from March 2017 to May 2018.  The Sussers care for their nearly blind, quadriplegic son Adam, who was terrorized by the dogs when his aide would place him in a transport car. The dogs would sometimes perch themselves on the driveway, scaring the disabled Susser and the aide. When he lived in California, McDonald was required to keep Brutus in an escape-free pen or kennel. A similar condition was eventually imposed at Foxe Chase by Palm Beach County Animal Care and Control officials, but that was after the attack on Brandon Susser. The county concluded that both Brutus and Tank were a nuisance and that Brutus was a "dangerous dog," as had San Jose. Brutus has since been euthanized.
The lawsuit describes in detail the confrontation of Brandon Susser and his mother, Judith, with the two dogs on Dec. 19, 2017.
Brandon and Judith were in the driveway when the two dogs attacked Brandon. First, Brutus bit him on the thigh, forcing him to the ground, then dragged him across the driveway. Then Brutus and Tank started to move toward his mother. Brandon kicked Brutus in the head to fend him off and was bitten on his ankle. Judith took off her shoes and threw them as far as she could. The dogs ran after them, giving the Sussers enough time to get back into their house. Animal Control cited McDonald for failing to control his dogs following the incident.
Seven days earlier, HOA property manager Sheri Scarborough sent a letter telling McDonald he had 10 days to repair his fence or face legal action. The fence was never repaired, and the dogs continued to be a nuisance until May 2018, when McDonald moved. Superior Association Management ordered McDonald on April 14, 2018, to get rid of the dogs but the order was never enforced.
The lawsuit cites Jeffrey Cohen, the current HOA president at Fox Chase, and Superior for failing to enforce the HOA rules and regulations against McDonald. The lawsuit says Cohen, who became president in early 2018, ordered the management company not to take action against McDonald following the December attack on Brandon Susser. The lawsuit alleges selective enforcement, claiming that the HOA cited numerous homeowners for minor infractions while ignoring the conduct of McDonald's dogs.
Cohen's lawyer, Adam Handfinger of Miami, said his client denies all of the allegations in the lawsuit. Efforts to obtain comment from Superior Association were unsuccessful.
Gary Susser's family has had issues with other residents at Fox Chase who allegedly failed to control their dogs.
He filed a lawsuit alleging that another couple allowed a 154-pound mastiff to attack his wife and their service dog in July 2018, about seven months after the McDonald incident.
The suit alleged that the owner let go of the leash and allowed the dog to attack Judith Susser wife and their much smaller dog that acted as a service dog for their son Adam. The mastiff had no muzzle. The suit was filed on behalf of Adam Susser, alleging his service dog failed to function the way it had been prior to the attack. Animal control cited the dog's owner for allowing it to become unleashed. The case was settled last August.
Susser said the POA needs to adopt rules and regulations regarding the control of large dogs. But some neighbors say Susser is overly litigious.  "If that means I sue to object to reckless behavior, then I guess I am litigious," he said. "I will continue to be, especially when it involves members of my family."