Effects of Coronavirus on the Pet Food Industry
April 7, 2020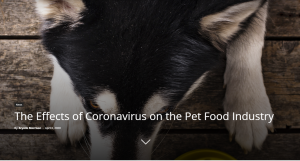 The pet food industry is experiencing the impact of the COVID-19 pandemic, not unlike the food industry. Pet food manufacturers qualify as essential operations, according to government agencies, and many facilities have had to hire additional staff, ramp up production, and make other operational changes to respond to demand surges.
Here's an overview of how the pet food industry is dealing with challenges associated with the coronavirus situation.
More adoptions lead to greater demand
Many consumers are now working from home and self-isolating, and this change in lifestyle has inspired households to welcome new pets to the family. Since there's no evidence yet that pets contribute to the spread of COVID-19, families and individuals feel safe turning to companion animals for mental and emotional support during this time.
With the help of coronavirus-related appeals in March, animal shelters around the country have seen a significant uptick in dog and cat foster situations and adoptions. For example, the ASPCA saw a 70% increase in fosters out of their New York City and Los Angeles programs. And some shelters have been able to completely empty their kennels of adoptable pets.
Some of these animals may return to the shelters when conditions normalize. But, at least for now, this trend has caused an increase in pet food demand that should help the industry weather this storm.
David Spinkle, the research director of Packaged Facts, says increased ownership rates for dogs, a pattern also seen during the Great Recession, may "help soften the blow of pet industry losses." The research market firm now expects U.S. pet food sales to grow by only 4% in 2020, compared to its 6% prediction before the pandemic.
Consumers are stocking up and ordering online
As pet owners try to plan ahead, many are stocking up on pet food, causing a short-term boom in sales. Nearly 65% of consumers say they have enough food to last for three to four weeks.
Compared to the same date last year, overall pet store sales were up by 92% on March 20 as pet owners rushed to stock up. In some of the hardest-hit areas, sales were significantly higher. For example, on the same March 20 date, New York City saw a 260% increase in sales. Blue Buffalo specifically noted a spike in its sales in mid-March, and the company expects pet food demand to remain strong.
In addition to emptying store shelves, the coronavirus situation has prompted 17% of pet owners to purchase pet food online more than they usually would. Online pet retailer Chewy is experiencing a flood of orders and expects to hire 6,000 to 10,000 employees at its fulfillment centers to keep up with demands.
Manufacturers are increasing production, navigating supply chain disruptions
It's hard to say how long the heightened demand for pet food will continue. But, in response, some pet food companies and suppliers are boosting production.
After seeing record sales and a 400% increase in e-commerce orders, JustFoodForDogs decided to up its production by adding overnight shifts. The company also recently opened a 21,000-square-foot kitchen in Delaware, which will employ 50 workers and produce as much as 30,000 lbs. of fresh pet food a day.
J.M. Smucker is also ramping up production, with priority given to its high-demand products. However, there are some setbacks. "The company said because of supply chain complexities and other issues, it will not be able to offer additional inventory above normal monthly demand for select Natural Balance dry dog food, all wet dog and cat food in the Natural Balance, Nature's Recipe and Rachael Ray Nutrish brands, and Milk-Bone brushing chews."
Several other manufacturers of pet food and treats are operating at maximum capacity to satisfy heightened demands.
Facilities are implementing stronger safety and sanitation protocols
Pet food manufacturers already operate within strict sanitation guidelines, but many are taking additional precautions to minimize person-to-person contact and exposure risks for employees who cannot work from home. Some of these safety measures include strengthening and communicating proper hygiene practices, limiting direct contact with truck drivers and visitors, and conducting complete sanitations and eliminating personnel contact during shift changes.
The FDA urges pet food facilities to follow current good manufacturing practices and use sanitizing products registered with the Environmental Protection Agency to protect against COVID-19 exposure.
Pet food brands are giving back
Through financial contributions and pet food donations, many pet food companies are helping out animal rescue organizations, homeless shelters, food pantries, and struggling communities during these challenging times.
Nestlé Purina is primarily supporting three charitites: the Petfinder Foundation, which has a COVID-19 fund for animal rescues and shelters; GreaterGood.org's Rescue Bank, which is supplying animal rescue organizations with pet food and supplies; and RedRover, which is offering emergency grants to pet owners who are survivors of domestic violence and those who have contracted COVID-19. Purina also recently donated 17 palettes of dog and cat food to the Clinton Humane Society to serve the Clinton, IA, community, where one of its manufacturing sites is located.
Vital Essentials kicked off its "Vital Relief Challenge" with a $100,000 donation to food pantries, shelters, and other nonprofits in the Green Bay area. Through the challenge, Vital Essentials hopes to encourage other pet food companies to give as they can. "We encourage any and all businesses that provide essential pet products to dig deep and help locally," Owner and CEO Lanny Viegut said. "We're asking our distributors, their suppliers, and other brands in the industry to do what they can, whether it's a financial donation, volunteering or other kinds of support."
Event cancelations
Organizers are canceling and postponing conferences, expos, and other events across industries. Within the pet food community, some notable event changes include Interzoo (pushed to next year), Petfood Forum (rescheduled for August), and Coalition by Kinship (moved to September). Several other pet food events have been canceled and postponed, and more will likely follow.