Emotional Support Animals
December 29, 2020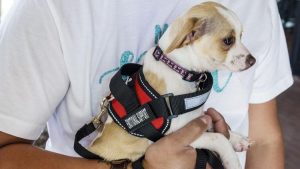 two weeks, Alaska Airlines will no longer allow emotional support animals to fly with guests on its planes.
The airline announced the news on Tuesday, following recent changes to the Department of Transportation's rules on such animals.
Under the updated federal policy, airlines can opt out of accepting emotional support animals as passenger companions.
Effective Monday Jan. 11, Alaska will limit animals in its plane cabins to service dogs, which are defined by the airline as those that "are specially trained to perform tasks for the benefit of a qualified individual with a disability."
"This regulatory change is welcome news, as it will help us reduce disturbances onboard, while continuing to accommodate our guests traveling with qualified service animals," Ray Prentice, director of customer advocacy at Alaska Airlines, said of the DOT's updated policy in an Alaska statement.
With Alaska opting out of flying emotional support animals, these new measures will be in place:
A flyer may bring a maximum of two service dogs with them, which can include psychiatric service dogs.
A flyer with a service dog must complete a DOT form to attest their dog is a legitimate service dog that is trained, vaccinated and will behave on the flight.
While Alaska is adopting its new policy soon, it will allow emotional support animals on flights through Feb. 28 for reservations booked before Jan. 11.