Emotional Support Dog Helps On Christmas
December 24, 2020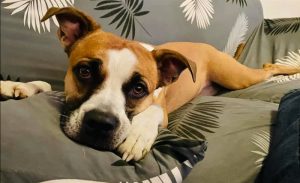 A Vernon woman is giving anyone who will be alone over Christmas the chance to borrow her emotional support dog, Lenny, in an effort to make this COVID Christmas a little less lonely.
Lenny's owner, Michelle Salt, said with the pandemic keeping plenty of family and friends separated this Christmas she wanted to offer her dogs companionship to those who might be lonely.
"Lenny has this incredible gift, she really knows how to make people happy," Salt told iNFOnews.ca, Dec. 22.
Salt describes Lenny as "hilarious" with a "big personality."
She said she won't be lonely this Christmas and doesn't want others to be.
The seven-year-old Boxer cross is a registered emotional support pet who came into Salt's life about four years ago.
Salt, who is a two-time Paralympic snowboarder, said she developed PTSD following a serious motorcycle crash 10 years ago.
She said Lenny knows when people are stressed and has a knack for calming people down. Lenny will actually sense if Salt is going to have a panic attack and make sure she's nearby.
The main requirement for anyone wanting Lenny's company this Christmas is that they must be able to handle endless cuddles on the couch.