Future Service Dogs
June 18, 2020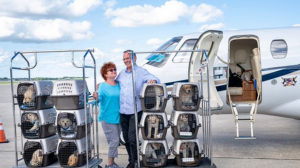 Talk about precious cargo! Check out these twelve eight-week-old puppies that recently landed in Orlando from California thanks to teams of volunteer pilots.
The pups are on their way to their Canine Companions for Independence volunteer puppy raisers in Central Florida. Young C.C.I. pups usually fly commercially, but during the COVID-19 era and limited flights, that's often been challenging to arrange. Thankfully, many volunteer pilots have donated their time and private planes to transport hundreds of C.C.I. puppies all over the country.
Once united with their volunteer puppy raisers, these little ones will spend eighteen months learning thirty commands and being properly socialized. After that, they'll head to Advanced Training at the C.C.I. Southeast Training Center in Orlando for six to nine more months of learning before being paired with their future partner. Canine Companions is the nation's leading provider of free assistance dogs to people with disabilities. With more than 400 people still waiting for their canine helper, C.C.I. staff members and volunteers continue to work through tremendous obstacles to ensure assistance dogs are ready for the folks who need them.