Gyeonggi's Nanum Center Sends Away 1,500 Dogs for Adoption
May 4, 2020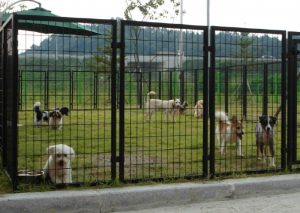 SUWON, May 4 (Korea Bizwire) — Gyeonggi Province announced Sunday that more than 1,500 abandoned dogs found new families after receiving protection and training at the Nanum Dog Protection Center.
The news comes six years and six months after the center's first dog was adopted in Nov. 2013, and 14 months after the 1,000th dog adoption in Feb. 2019.
The Nanum Dog Protection Center is a dog training and protection agency run by the province, established in the city of Hwaseong in March 2013.
The center consists of a management building and two protection facilities that can accommodate up to 110 dogs, and is capable of sending away 400 dogs each year for adoption.
Starting with 12 dogs at the beginning of operations, families adopted 233 dogs in 2017, 292 in 2018, and 335 in 2019 from the center.
This year, 204 dogs have been adopted so far, and the 1,500th adoption was finalized on April 27.
"I liked that the center manages hygiene and trains the dogs before they are sent away for adoption," a woman who adopted a dog said.
The center brings in dogs with good social qualities from local animal protection agencies, providing medical treatment and training so that they can be adopted as service dogs or pets.
All dogs at the center are managed by designated veterinarians and trainers, allowing adopting families to receive education before adopting a dog, and offering information on medical and training-related issues after the adoption.
For potential adopters who are worried about allergies or lack of experience, the center started a temporary protection program in December to allow a two-week trial period to see if the dog adjusts well in the environment.
If not, the adopters can return the dog to the center.