Healer Service Dog Makes Difference
September 23, 2020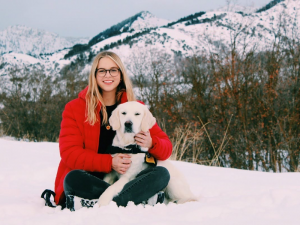 "The healing power of dogs is incredible," Jill Kesler said. The Draper art teacher and cancer survivor adopted her English Cream Golden Retriever, Gus, shortly after she was diagnosed. Not only did the then 8-week-old puppy bring some much-needed joy to Kesler's family, but Gus seemed to intuit when Kesler wasn't feeling well and would sit with her and comfort her.
That intuitive nature and sensitivity is characteristic of the dogs at Golden Healer Service Dogs who are bred and trained to become therapy and service dogs. Some, like Gus, become beloved pets. Kesler adopted Gus from Golden Healer Service Dogs founder Mike Carlson last year. "Mike's program is amazing," Kesler said.
"There is no other organization like ours in the area," explained Carlson. "There are organizations that help vets and people who train dogs, but no group that breeds and trains therapy and service dogs."
Carlson started breeding and training Labrador Retrievers as pets over 25 years as a hobby. In 2008, during the economic downturn, he lost his business and had to regroup. "That was the only time in my life I didn't have a dog," he said. "Roughest years of my life."
In the ensuing years, Carlson held various jobs, including one in the field of behavioral health which he found rewarding. "It's a great field to really help people," he said. "I asked myself, 'What's my passion?' I wanted to do something that had more meaning in life. I love animals and really enjoy being around them. I thought about what I could do to bring that to others."
Back in the business of breeding Golden Retrievers, Carlson came across the English Cream Golden Retriever breed in 2014. He learned that many of them are used as emotional support and service dogs due to their temperament and disposition.
Golden Healers Service Dogs was officially founded in 2019 and the nonprofit's first batch of puppies was born in February of that year. Currently, the program has around 30 dogs in various stages of training.
According to their website, Golden Healers can offer clients service dogs to assist them with a variety of issues. There are dogs that are specifically trained to help people of all ages with autism, PTSD and mobility issues. Dogs can be trained to alert family members when someone is about to have a seizure or experience changes in blood sugar levels due to diabetes. There are also emotional support and therapy dogs.
Carlson explained that emotional support dogs are trained in basic obedience while service dogs receive an additional six to 12 months of training in performing specific tasks. "There is no one size fits all scenario in this business," he said. The needs of each individual are taken into consideration.
Golden Healers relies on volunteers to help with everything from puppy sitting and raising to training. Raquel Mills became a puppy raiser last spring during the quarantine. "We were home and had an older dog. That cute puppy just brought life to our whole house and joy in the midst of uncertainty," she said.
The family named the new pup Chrystal and Mills decided to train her to become a therapy dog. She was inspired by the story of a woman in Las Vegas who brought her dog to visit first responders in the aftermath of the 2017 mass shooting. The power of animals to calm anxiety in humans is well established by science.
"We're going through the training to be on a pet therapy team," Mills explained. "We've visited hospice patients and nursing homes."
Utah State University student Kiara D'Amico also started out volunteering as a puppy raiser in December 2019. "Puppy raisers basically take the dog everywhere," D'Amico explained. The idea is to thoroughly socialize the puppy.
"Every month we have a big group training which all the dogs come to," she said. "We take the dogs different places. Last time we went on TRAX to get them used to trains. We've been to the mall. The goal is to keep the dogs focused in different environments."
D'Amico enjoys taking her dog, Violet, to interact with people living in nursing homes. "That's really rewarding," she said. "It's the best part."
Around the same time that she started working with Violet, D'Amico was diagnosed with POTS (postural orthostatic tachycardia syndrome) which causes problems with breathing and other serious symptoms. D'Amico has decided to train Violet as her service dog.
"Violet has made me realize how lucky I am, that I am still able to get around," she explained. "It helps to have the responsibility of caring for someone else. Having to take her out gets me out of the house."
D'Amico also suffers from a failing kidney and will learn in September if she is a candidate for a transplant. "If I get the transplant, I'll need Violet a lot more because I'll be bedridden," she said. D'Amico plans to start training her dog to do tasks such as bringing her medication and alerting family members if she needs help.
Volunteers such as Mills and D'Amico are central to the success of Golden Healers. Mike Carlson explained that it can cost between $30 to $40K to care for and train a service dog. "We don't ask the client to pay that, just assist with fundraising," he said.