Henry The ESA
September 21, 2020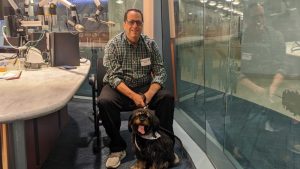 David Sichel from Trevose rescued the Shih Tzu mix last year and also launched Sober Transport, which provides reliable transportation for those seeking or receiving rehabilitation.
Sichel, a certified recovery specialist who has been sober himself for about six years, brought Henry into the mix as an emotional support dog. Together, they offer support for the passengers and lessen their anxieties as they head to treatment centers.
"(Henry) sits there quietly. I've had addicts fall asleep on him," Sichel said. "If you take a dog with you, like how I I use Henry, it really puts the person at ease going to treatment."
"In my own personal experience, you can manipulate somebody to take you home or not go, and that's why it's always good to have an independent person," he explained.
Sichel also carries Narcan with him and can administer it, if need be. Next, he wants to start a nonprofit that would look after people's pets while they are in rehab, so they can focus on recovery and know their four-legged loved ones are in good hands, too.