Kalamazoo County Animal Services
May 20, 2020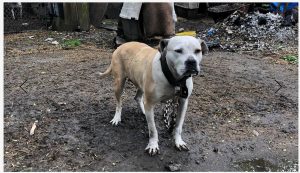 The Kalamazoo County Animal Services and Enforcement is reporting that 10 pit bull type dogs have been removed from a Kalamazoo home, with dogfighting suspected.
The investigation and cleanup was assisted by the Kalamazoo Humane Society (KHS), who says that an officer viewed evidence of suspected dogfighting during a visit to a home in the 400 block of East Frank Street on Saturday, May 16.
Officer Keith Myers visited the home after receiving a tip from the Kalamazoo Department of Public Safety (KDPS) about loud barking coming from the home.
Following the execution of a search warrant, authorities discovered dogs, roosters, and hens in "deplorable conditions" in the backyard, as well as more dogs inside the home.
Ten pit bull-type dogs were removed, which is above the allowable limit of up to 3 dogs per household according to the city code.
According to the KHS, dogfighting is a felony in Michigan with a penalty of up to four years in prison, community service of 500-1000 hours, and possible fines of $5,000 to $50,000. Other violations can include owning, possessing, breeding, and selling dogs and equipment for fighting and baiting, as well as other activities commonly associated with the crime of dogfighting.
Officials say it is currently unknown if the birds are part of the suspected animal fighting activity.
No arrests were made on the scene, and the investigation remains active. Criminal charges are expected to be filed in connection with this case by KCASE.
The KHS adds that citizens can help stop dogfighting by reporting a large number of dogs, excessive barking from multiple dogs (inside and outside of the home), and dogs outside without adequate shelter, food or water.