Law Enforcement Dog
June 8, 2020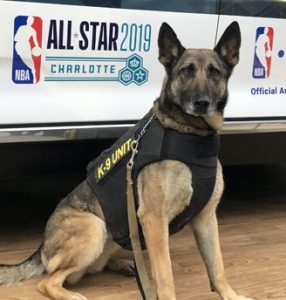 Cody, a bomb-sniffing dog from Newport News, could win Law Enforcement Dog of the Year.
The 8-year-old pup is competing against two other dogs in the same category: Denny, from Lindenhurst, New York and Axel from Scranton, Pennsylvania.
The annual event has seven categories for the award show this year: Therapy Dogs, Service Dogs, Military Dogs; Law Enforcement Dogs, Shelter Dogs; Search and Rescue Dogs and Guide/Hearing Dogs, according to the news release.
In addition, the 21 dogs remaining were selected out of 408 initial candidates and the winner of each category appears on the Hero Dog Awards in the fall. Voting ends July 16. You can vote Cody here.
Cody's handler, James Overton, of American K-9 Interdiction, said in a prepared statement that Cody started in explosives detection in Iraq before continuing her career at the Mall of America and was transferred to Newport News working at Busch Gardens, LPGA tours and other events.
Cody also helps local agencies with bomb threats, visits schools and loves ear scratches.
Overton wrote one time while Cody was working at an amusement park when a girl around 8 years old waiting in line for a ride was bit in the leg by a service dog.
"When Cody saw the little girl, she immediately walked over, licked the girl's hand and then laid at her feet," Overton wrote. "Almost immediately, the little girl stopped crying, and was soon smiling, thanks to Cody."