Medical Service Dog
June 8, 2020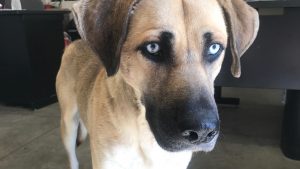 A dog is helping Second Chance Animal Shelter in Selma live up to its name.
One of its strays has gone from shelter dog, to service dog.
"He kept getting out, he kept getting out of the house until one day, he ended up in the shelter," says Aranda Guerra, an animal advocate who was familiar with the Anatolian Shepherd, then known as Max.
The owners eventually surrendered the dog — and Guerra made it a mission to find him a new home.
She had owned a dog of that same breed, and knew it had great potential.
But, "he looked really sad. Super sad," says Guerra.
"He was a little shy," says Rebecca Hernandez, an Animal Control Officer at Second Chance Animal Shelter. "We were being very careful with him."
Hernandez says the staff, too, was determined to help the blue-eyed pup shine.
"We did spent a lot of time working with him, taking him out, spending some personal time with him to get his confidence up with people and our staff in general," Hernandez says.
Meantime, Guerra reached out to animal rescue groups and foster homes.
She eventually connected with trainer John Anthony with Redemption Road K9, a working dog company and training center near Lancaster.
"You can just see there's a light in his eyes," says Anthony, who was also familiar with the breed of dog.
And, he already had a family in Orange County in mind.
The bond, almost instant, for RJ Estrella and her daughter, Taylor.
The new family, had a new name for the dog: Samson.
"You can see the soul in his eyes and the intelligence in him," says RJ Estrella, whose daughter has Gastrointestinal Disease and Polycystic Kidney Disease. "He's proving that every day at this point."
Anthony will train Samson to be Taylor's Medical Service Dog.
"Sometimes she has a sudden onset of pain where she can barely walk," Estrella says. "He can alert us."
Anthony will also teach Samson to retrieve Taylor's medication.
"Watching Taylor and Samson bond on the ranch, I got emotional afterwards because that's the whole reason we started Redemption Road K9," Anthony says.
"He listens to her at this point better than he does me. He's a smart guy," Estrella says.
It will take over a year to train Samson.
But first, the pup will receive some much-needed TLC and medical care.
Estrella is keeping Hernandez and Guerra posted on Samson's progress.
"The fact he can help out a little girl makes me so happy," Hernandez says. "In this case, Max did very well get a second chance at life."