Meet Nanuq, Future RCMP Service Dog
May 6, 2020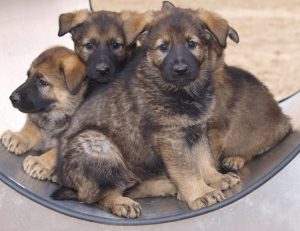 One of the RCMP's future police dogs will bear the name Nanuq, which means polar bear in Inuktitut.
The name, suggested by Hunter Lowe of Rankin Inlet, was one of 13 winning entries proposed by children between the ages of four and 14 from across Canada.
All entries had to begin with the letter N, contain no more than nine letters and have one or two syllables.
The winning names will go to puppies born this year at the Police Dog Services Training Centre in Innisfail, Alta., the training centre for RCMP police dog teams in Canada.
All German shepherds working today as RCMP service dogs were born at the training centre, as part of the RCMP's police dog breeding program.
"Thank you to all the children who entered," said Staff Sgt. Gary Creed, the senior trainer and acting officer in charge of the police dog service training centre, in a news release.
"And thank you to all the teachers who make this part of their class work. These 13 names will serve our dogs with pride."
RCMP police service dog teams are an important part of frontline policing, the RCMP said in an April 29 release on the winning names.
The dogs search for missing or lost people, track and apprehend criminals, remove illicit drugs from the streets, detect explosives, and search for evidence used in crimes, the RCMP said.
Lowe and the other winners will each receive a laminated 8″ x 10″ photo of the pup they named, a plush dog named Justice and an RCMP water bottle.