Moses the mastiff training to become a therapy dog
March 27, 2020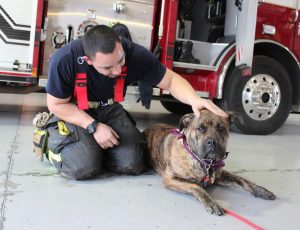 Moses, a year-and-a-half-old Canary Mastiff, was a bit unsure of his surroundings during a recent visit to the county fire station on Public Safety Drive, but he enjoyed the head scratches and bully rubs even if he wasn't fond of the smell of smoke from a lingering training exercise or the look of firefighters laden with gear.
"That's why we are doing what we're doing," said Joe O'Neal, Moses' owner.
Moses was recently certified as a Canine Good Citizen through the American Kennel Club, and the folks who trained him at Whispering Oaks in Murrayville told the O'Neals that Moses would make an excellent therapy dog, so now the gentle giant is in the process of earning that certification as well.
"Watching other people enjoy him is therapy for me," said Joe O'Neal, who noted that he has suffered from back and hip issues for some time and dealt with depression as a side effect of his injuries.
Moses has been such a big help to him, he said, that he wanted to share his furry friend with other people who could benefit from an interaction with the dog. Melody noted the improvement in her husband's life has been important.
"Doing things with Moses is a huge distraction, so it helps him a lot,"