Oceanside Corgi Living Life
November 20, 2020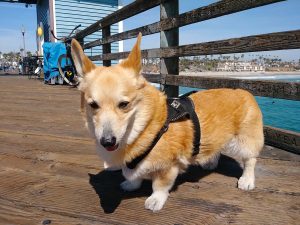 A new picture book written by a retired Lincoln Middle School teacher has eternalized a friendly corgi as Oceanside's unofficial mascot.
Deborah Burggraaf, formerly known as Miss Waller at Lincoln Middle School, is the author of "BHANTE: The Corgi of O'side," a new picture book that tells the story of a beloved Pembroke Welsh corgi as he sightsees around Oceanside.
Bhante was a real dog who lived in Oceanside and went virtually everywhere, according to his owners, Chuck Fasilis and his wife Sharon Gibson.
"He attended so many activities in Oceanside," Fasilis said. "He was at every Iron Man, Super Woman and any of the walks … we would take him to the live theater and no one would even know he was there because he would be so quiet."
When people did notice Bhante, they were instantly attracted to him.
"We would take him to restaurants and the way little kids would immediately attract to him — 'Oh it's a corgi, it's a corgi' — and they always wanted to pet him," Fasilis said.
Bhante would even go to church and the doctor's office with his family.
"Doctor's offices don't usually let dogs in, but they would let Bhante in, and they would want to babysit him while we were there," Fasilis said. "That's what kind of dog he was from the beginning."
Bhante was a trained service dog who could always sense when someone was sick, according to his owner.
"He would sense when my sugar was off and would come lay by my side," said Fasilis, who has Type 1 Diabetes.
Before she moved to Florida, Burggraaf would babysit Bhante while his parents were traveling. She would take him to his favorite spots — the pier, the harbor, and all of the other highlights of downtown Oceanside.
"He was so friendly with everybody, and everybody would want to pet him," Burggraaf said. "He and I became very close."
One time when Bhante's parents were away, Burggraaf sat down and began writing his story.
"They came back home and I had this really rough draft that I showed to them," she said.
She teamed up with Fasilis, who is also a photographer, to put together a collection of photos of Bhante for the book.
Besides showcasing a happy little corgi, the book also promotes Oceanside and has a message that emphasizes love and kindness.
"We all need love and kindness right now, and Bhante always gave love and kindness to everyone he met," Burggraaf said.
Bhante lived to be 16 years old. He died in March.
"He was feisty 'til the end," Fasilis said.
Though he may be gone, Bhante's story and his friendliness live on in Burggraaf's book.
"BHANTE: The Corgi of O'side" is Burggraaf's 16th book. Burggraaf has won several awards from the Florida Authors and Publishers President's Book Awards.
Burggraaf taught in Oceanside for 10 years. She now lives in West Palm Beach, Florida.