Office Police Dog
July 28, 2020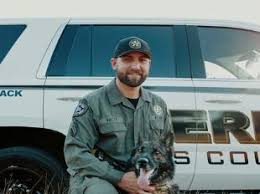 On July 20, at around 5 p.m, Ellis County Sheriff's Office Police Dog Blade passed away due to cancer.
"It is with a heavy heart that we announce the passing of an Ellis County Sheriff's Office Police Service Dog (PSD) Blade," according to a Facebook post shared through the Ellis County page.
PSD Blade and Corporal Klinton Valley served together for the past seven years. Together, Cpl. Valley and Blade tracked, apprehended and arrested various suspects for violent crimes and drug offenses.
Around 4:30 p.m., Valley and Blade set out on their final mission together before his passing.
"He passed peacefully and was surrounded by family, friends, and his K9 training partners from surrounding agencies," the post continued.