Orbit The Facility Dog
October 2, 2020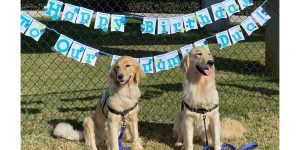 Huntsville Hospital's newest employee has four legs, plays fetch and answers to the name of Orbit.
The new facility dog was made possible by a grant from PetSmart Charities through Huntsville Hospital Foundation, and started seeing patients in mid-September.
Orbit and his sister Asteroid are Golden Retrievers that make up Huntsville Hospital Foundation's Canines for Coping program, which is 100-percent donor funded.
The professionally trained service dogs bring comfort and support to pediatric and adult patients at not-for-profit Huntsville Hospital for Women & Children, and are the first hospital facility dogs in Alabama.
This impactful program launched in July 2019. Because of patient volume and an overwhelmingly positive response to the program, a second facility dog was needed.
A $70,441 grant from PetSmart Charities in 2019 covered the cost of the additional dog and its intensive training, which prepared it to provide services based on medical goals, to be present during medical procedures and to assist with bereavement.
The grant also covers the annual cost associated with Orbit's Certified Child Life Specialist facility dog handler.
"The Canines for Coping program has been an incredible asset to our hospital, and we are excited to serve more patients with the addition of Orbit," said Elizabeth Sanders, vice president, Huntsville Hospital for Women & Children. "Thanks to PetSmart Charities, we can provide double the joy, comfort and support to our patients, ultimately improving their outcomes and hospital experience."
Huntsville Hospital Foundation is also honored to announce that PetSmart Charities has continued its generous partnership with the program through 2021 thanks to a $46,500 grant, awarded in September 2020.
"We are thrilled to continue to support the expansion of the Canines for Coping program and the arrival of Orbit," said Kelly Balthazor, regional relationship manager at PetSmart Charities. "The program has proved to change the way patients receive care through the healing power of pets, and we look forward to seeing the positive impact Orbit is sure to have on both the pediatric patients and staff."
This dynamic duo is so loved they even had a superhero themed birthday party on October 1st!