Pets In A Pandemic
May 11, 2020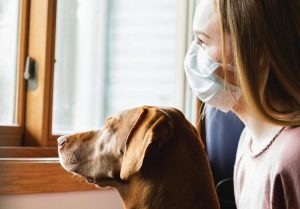 Dogs and cats — as well as livestock — appear to have little to fear from the coronavirus pandemic.
While the outbreak is believed to have started when mutated viruses spread from infected animals — likely bats — bats to humans in a Chinese wet market last year, there is almost no evidence to suggest the new virus poses a significant threat to domestic animals.
According to the American Veterinary Medical Association (AVMA), only three pets in Hong Kong (two dogs and a cat) and three in the U.S. (two cats in New York state and a dog in North Carolina) have tested positive for the coronavirus. Additionally, eight big cats in the Bronx Zoo — five tigers and three lions — have tested positive.
Health authorities believe that in each case, the animals became infected through contact with infected owners or zookeepers. Each animal experienced a mild respiratory illness and recovered.
"The evidence is overwhelming at this point that COVID-19 is a people problem," San Francisco-area veterinary practice owner Dr. Carrie Jurney says. "Animals are a very, very, very minor footnote in this story."
Authorities typically hasten to add there is no evidence to suggest that pets or livestock can transmit the virus to people; however, because dogs, cats and other domesticated animals have long been known to be susceptible to other strains of coronavirus, AVMA veterinarians recommend:
Animal owners without symptoms of COVID-19 should continue to practice good hygiene during interactions with animals. This includes washing hands before and after such interactions and when handling animal food, waste or supplies.
Owners should not let pets interact with people or other animals outside the household.
Cats should be kept indoors when possible, to prevent them from interacting with other animals or people.
Dogs should be walked on a leash, maintaining at least 6 feet of distance from other people and animals. Avoid dog parks or public places where a large number of people and dogs gather.
Until more is known about the virus, people infected with COVID-19 should restrict contact with pets and other animals, just as they would humans.
Reduced contact can pose a challenge for disabled persons who rely on service animals. In those cases, only basic care should be provided for the animal, with little to no petting, hugging, snuggling or sharing of food.
Authorities advise against routine testing of pets or livestock for the novel coronavirus, and they discourage putting masks or other protective gear on animals.
The major challenge for pets is a familiar one: Who will care for them if their owners fall ill.