Pets Providing Peace During The Pandemic
May 7, 2020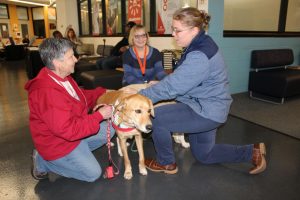 People and families throughout the region are continuing to adjust to a new normal of physical distancing guidelines, stay-at-home orders and other developments of the coronavirus pandemic. Since the global health crisis can cause added stress, some people are finding comfort in the companionship of their pets.
Marie Haigh, of Pottstown, homeschooled her three children before the pandemic so she didn't have to adjust to virtual learning, but her family has found it challenging to adapt to the other circumstances caused by COVID-19.
"I'm used to hanging out with my kids all day. This part is true but the whole not being able to do our normal round of going out to field trips, just getting out of the house, and visiting friends, that part of it has been hard," Haigh said.
She said except for her 5-year-old son Malcom, who is a homebody, the rest of the family has found it necessary to spend time outside of the house and in nature. Haigh's Golden Retriever named Clover has been a motivator when it comes to getting fresh air.
"She drags us outside, even on days when we're like it's raining and I don't want to go out," she said.
Haigh said once her family is outdoors, they are happy to enjoy time in nature.
"There's just some days when we all just need a mental check and we just need to get out of the house. We just call it a health day," she said.
Haigh said she and her children enjoy gardening in their yard but must venture throughout the neighborhood and area trails to do activities that require more room such as walking, running and cycling. The family often visits Pottstown Riverfront Park to use the Schuylkill River Trail.
"The trees are kind of overtop of you. It (the Schuylkill River Trail) is beautiful. You just feel more connected to nature and you just breathe deeper," Haigh said.
Her dog Clover enjoys the regional trail as well and celebrated her eighth birthday there on March 15.
"In my mind I was thinking today is Clover's birthday, so we have to do something for Clover. What would Clover want to do?" Marie said is how the family ended up on the trail for the celebration.
The family rode their bikes on the trail while Clover ran alongside them.
Haigh said Clover is also a comfort to the family inside their home.
"She just helps us to relax as well. We call her our lazy dog inside the house," she said.
Haigh said Clover especially comforts her 9-year-old daughter Brooke. She said Brooke has found the restrictions particularly challenging because she doesn't like to talk on the phone so she's found it difficult to not be able to play with friends. Haigh said Clover allows her daughter to have a "constant friend" during this time.
The Centers for Disease Control and Prevention (CDC) state that around 38 percent of households in the United States have one or more dogs.
"Dogs can have many positive effects on the lives of their owners. They influence social, emotional, and cognitive development in children, promote an active lifestyle, provide companionship, and have even been able to detect oncoming epileptic seizures or the presence of certain cancers," states the CDC Website.
Jessie Wickersham, a veterinary emergency nurse who resides in Pottstown, owns two Pit Bull mixes. The dogs' names are Meatball and Bubbles and Wickersham said her family loves them.
She said the pandemic has been difficult for her three-year-old son who doesn't understand why their routine suddenly changed.
"Everything is weird. He can't see his nana," she said.
Wickersham said her dog Meatball has been her son's "shadow" and the two are always snuggling together. She said her son appreciates the physical connection.
"Meatball loves him, and he can just snuggle right into him," she said.
Dogs aren't the only pets that Wickersham owns. She also has chickens and they provided comfort in a different way than the dogs. Wickersham said when grocery stores started running low on eggs, she was able to just go out to her coop. She has also made contactless door egg deliveries to her family in the area.
Audra Hammer Ross, of Pottstown, has two cats and two guinea pigs. The cats are Butterscratch and Peekaboo.
She said all her pets are getting more attention because everyone is at home all the time.
"Especially the guinea pigs because they're in the cage all day and the girls are usually not home. They've been out of the cage playing a lot more and probably don't know why they're getting so much exercise," Ross said.
Ross said her 9-year-old daughter Fiona has become more attached to the cats since spending more time at home. She said her daughter feeds the cats every day and it has helped them form a deeper connection.
"Peekaboo always comes right up to her in the morning," Ross said.
Ross said another way the pets are helping her daughters during this time is by teaching them responsibility and giving their day structure. The girls have chores such as feeding the animals and cleaning up after them.
"It makes them feel a little more in control because they're in charge of that," Ross said.
The CDC website states that about 40 million U.S. households have pet cats.