Police Service Dog
July 22, 2020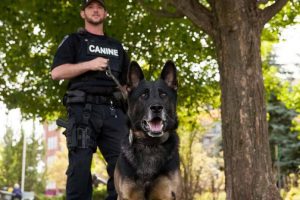 The Peterborough Police Service announced on Monday (July 20) that retired police service dog (PSD) Wolfe has passed away.
PSD Wolfe was donated by the Knights of Columbus and spent seven years working the streets of Peterborough with his friend and partner police constable (PC) Tim Fish.
"He was crazy tough, but was always great with kids," PC Fish says in a police media release.
"We did so many school presentations, at all levels, including college and university," PC Fish recalls. "We would never turn down anyone who wanted a picture or ask questions. He was the best. We always did Kids and Cops and Take Your Kid To Work Day. Every chance I had to show him off I did."
PSD Wolfe retired from active duty in 2018 but remained a part of PC Fish's life until his passing.
"Retirement was tough for Wolfe but he ended up loving it." PC Fish says. "He was so amazing."
PSD Wolfe received numerous accolades, including a Commanders Commendation in 2015 for Outstanding Police Work while arresting an armed suspect.
He was responsible for countless successful tracks and located approximately $10,000 cash, and over $20,000 in drugs during a search in Brookdale Plaza. He was also available as an invaluable support to all units, specifically front-line patrol officers and the Peterborough Police Service's Emergency Response Team.
"PSD Wolfe will be missed," states the police media release.