Police Takes Over As Canine Handler
November 18, 2020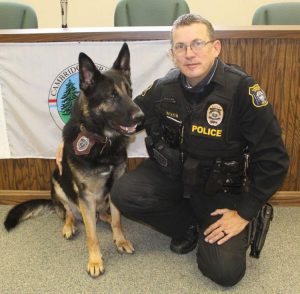 Lator, the canine officer for Cambridge Springs Police Department's K-9 Unit, has a new handler.
Lator's former handler, Sgt. Lee Woodworth, recently left the department, so Chief Tad Acker has taken over.
"Lee took a full-time job with the City of Corry Police Department," Acker said.
But Lator stayed because he is owned by the borough. He came with a price tag of about $14,500 and was purchased with donations from community individuals and businesses.
Lator, 2, a purebred German shepherd, will turn 3 in December.
He was shipped to the United States from Hungary, and the police department got him from Shallow Creek Kennels, a police service dog training academy in Sharpsville.
With Woodworth leaving, Acker contacted the kennels to find out if a police service dog could be trained to work with a new handler. The answer was yes.
"The reason I agreed to assume the handler position is because the police department did not have any other officers who have enough time in or experience," Acker said.
Acker is no rookie when it comes to police canines. Although he's never been a handler, he previously worked for the Vernon Township Police Department, which had two dogs.
"I know the dedication and commitment it takes working with canines," he said.
Acker, 51, is a seven-year member of the Cambridge Springs police force.
But he's been a police officer since 2001, when he graduated from the North East Mercyhurst Municipal Police Academy. He worked part time for the Cochranton Police Department and the West Mead Police Department. He then worked part time for the Vernon Township Police Department from 2005 to 2008 and went full time there in 2008. He stayed with Vernon Township until joining the Cambridge Springs Police Department in 2013. He is also president of the Frank L. Baranyai Memorial Lodge 108 in Cambridge Springs.
Lator is a dual-purpose dog: he's trained in narcotics searches, apprehension of suspects, building searches and article searches, and he's also trained in tracking.
His veterinary care is sponsored by Greener Pastures Veterinary Services in Saegertown.
In between handlers, Lator stayed at Knick's Bed and Biscuit LLC in Meadville, a canine kennel that helped with the transition.
"When the borough decided we would keep the dog, we took Lator to Knick's and housed him there until Lee's last day," Acker said.
Lator goes home with Acker every day. Acker, who is married and has a stepson, said Lator is adjusting to his new family.
"We already have three dogs, so incorporating Lator in to the family so far has been positive – but it takes time," he said.
The police department has a K-9 transport sport utility vehicle, which is a 2018 Ford Interceptor package. In the back, a transport cage for Lator takes up half the space, and the other half is for prisoner transport.
In addition to working in Cambridge Springs, the K-9 Unit also helps other police departments.
"The whole thing I've learned is that it is a different job," Acker said. "Lee did a phenomenal job with Lator. I'm hoping to maintain that."
And he's working on that now, with a little help from some friends. Acker and Lator have been training with Mike Amann and Tony Dibacco from Lake Erie K9 in Lawrence Park; Sgt. Landon Silva and his canine, Kenzo, of the Borough of Edinboro Police Department; and retired K-9 handler John T. Labow.
"The dog is trained; I need to learn how to read him," Acker said. "We've bonded really well."
Although Lator is playful and friendly, he's also a working dog, and when he works, he means business.
Acker believes Lator is an asset to the police department and Cambridge Springs as a whole, saying he fits into the community well and does his work when required.
"He's social, but when he goes to work, he's a different dog," the chief said.