Program Of Human Services
July 22, 2020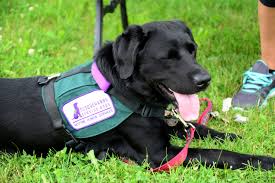 U. S. Steel and Susquehanna Service Dogs (SSD), a program of Keystone Human Services, are pleased to announce a partnership to fully fund an assistance dog who will be paired with an individual in the Pittsburgh area. This partnership covers the cost of breeding, raising, training, and placing an assistance dog to assist someone with a disability to live more independently in their community.
Each dog Susquehanna Service Dogs places is individually trained to mitigate their partner's disability and enhance their life. Dogs can assist people with physical disabilities that impact mobility or balance, as well as people with psychiatric disabilities, autism, PTSD, and seizure disorders. SSD also trains hearing dogs to assist people with hearing impairments, as well as facility dogs.
'We are pleased to help an individual in our hometown of Pittsburgh become more independent with the placement of an assistance dog. We look forward to watching this talented animal grow from a puppy to a fully-trained dog,' said John Ambler, Vice President of Corporate Communications and Brand Management at U. S. Steel. 'These remarkable assistance dogs can transform lives and we look forward to seeing what this special puppy will contribute.'
Training starts from the moment a dog is born to set them up for future success. When a puppy is 9 weeks old, they join their puppy raiser, who spends the next 15-18 months teaching them good house manners, self-control, and over 20 different foundational cues. The dog then enters Advanced Training, where SSD's professional trainers match the dog with their partner and individually train the dog in specific tasks specially designed for their partner's unique needs. U. S. Steel will be posting frequent updates on its Linkedin, Twitter, Instagram and Facebook pages, following the progress of the dogs in training.
'We're very happy to partner with U. S. Steel,' says Pam Foreman, SSD's Director. 'People partnered with our assistance dogs report they are better spouses, parents, friends, students, employees, and community members. This partnership with U. S. Steel is helping to change lives.'
Susquehanna Service Dogs is a program of Keystone Human Services and has been breeding, raising, training, and placing assistance dogs in Pennsylvania and the surrounding states since 1993. SSD is an accredited member of Assistance Dogs International.