Rescue Dog Program
September 14, 2020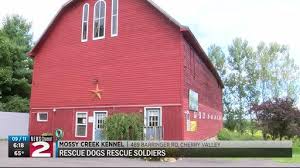 A local animal shelter is training their rescue dogs to meet the needs of veterans who adopt them, all thanks to funds from a special benefactor.
A wonderful partnership is taking place at Mossy Creek Kennels where they're pairing rescue dogs with local veterans.
El-Liza's Dog House at Mossy Creek Kennel, on 469 Barringer Road in Cherry Valley, has now expanded. A generous benefactor has allowed them to purchase a for profit boarding kennel in Cherry Valley. The profits raised will go towards running the rescue.
The founder of the Rescue Dogs Rescue Soldiers Program and Co-founder of El-Liza's Dog House, Mrs. Elizabeth Keller, said "Back in December we were able to participate in the Staffworks Save a Life Campaign and the additional money that we raised helped to expand our Rescue Dog Rescue Soldier operation."
This new Rescue Dog Rescue Soldier program takes in rescue dogs, trains them, then pairs them with local veterans who need service dogs or just companionship to help with PTSD and other mental health conditions. The trainers are students going to college for this line of work. Mrs. Keller said "We were very lucky when we got here to be able to hire some young girls that are actually enrolled in the SUNY Cobleskill Dog Behavior and Training Program."
These trainers teach the rescue dogs to behave properly before they can be adopted. One of the trainers who is a third year student at SUNY Cobleskill, Leah Manuel, said "Training I've been doing is basic obedience with the shelter dogs to make them more adoptable; sit, stay, down, the heel position, to tell them to get off, just basic manners."
On the other hand, their service dogs are trained to perform behaviors tailored to the veteran they will be serving. Mrs. Keller said "And then with the service dogs, they're specifically trained for the veterans needs. So some of them would be trained to jump up on the person depending on what their needs are."
This is a great way for Mossy Creek Kennel to raise money to help take care of these animals and expand the facility.