Senior Dogs
June 15, 2020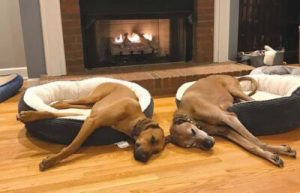 For years he has gone on walks and adventures with you. You played tennis ball fetch with him for what felt like hours on end. He has sat on the sofa and watched TV with you. He has been there for hugs and snuggles when you felt sad. He knows all your routines and you know what each of his barks mean.
Now he moves a little slower. His muzzle is gray and his eyes are a bit cloudy. He sleeps more than he used to and sometimes doesn't want to get up. Your best friend has aged, and much too quickly.
Senior dogs deserve our attention just as much as they did when they were younger. They may have special needs or need additional health care, but they still have a lot to offer us in the way of companionship and love. My first therapy dog was a nine-year-old Shetland Sheepdog I rescued from the Lexington Animal Shelter. His health had been neglected, he had heartworms and a mast cell tumor, as well as a coat in awful condition. We vetted him, gave him good food, taught him some basic obedience (and yes, an old dog can learn new tricks), and he became a registered therapy dog, bringing delight to nursing home residents. He lived a very full life for five more years.
What is considered a senior age varies depending on the size of the dog. Small dogs are considered seniors at 11 years old, medium dogs at 10 years old and large or giant breed dogs at eight years old.
You may first see signs of aging in your dog by some graying of the muzzle, a slight cloudiness in his eyes, or maybe some stiffness when he walks. Most of the symptoms of old age can be improved and slowed with good veterinary care.
Jennifer Bonovitch, DVM, with Two Notch Road Animal Hospital says, "I strongly encourage my patients to come in every six months for a full senior exam, along with screening bloodwork. Many times we can catch a disease early, either on a physical exam or a bloodwork abnormality, enough to intervene to the point the pet can live a full life with minimal side effects, as opposed to not intervening until the medical issue is urgent and possibly irreversible."
Crystal Knight, DVM, with Cherokee Trails Animal Hospital, adds, "There are diseases that are more common as your pet ages, but AGE is NOT a disease. Plan in advance for the cost of more routine health care like dental cleanings, blood work, more frequent examinations, and medications that are needed to help keep your pet in the best shape it can be."
Common problems like arthritis, urinary incontinence, and some skin lumps and bumps can often be treated easily and provide your senior dog with much relief.
While your senior dog may not be ready to run a 5K with you anymore like in the past, he will still enjoy moderate exercise and this will help keep his joints healthy. Even if it seems like he wants to lie around, take him for a pleasant sniff walk around the neighborhood. Walks are not only good for his physical health but provide another way to enrich his life.
Ellen Huse, DVM, with Sunset Animal Clinic offers some easy to implement, practical advice for helping your senior dog. "Especially for large breed seniors, 'seniorize' your home. Use baby gates to block off steps so they can only go up or down with your help or supervision. Make a trail of rugs or bathmats or other non-slick surfaces across hardwood floors. Encourage them to lie on padded surfaces, so they won't be as stiff when getting up. I recommend swimming if practical and leash walking so there will be less muscle wasting. Omega 3 fatty acids at proper dosages are good for joint, brain, and skin health. Remember their hearing and vision aren't as keen as they used to be, so make efforts not to startle them."
Other members of the Alliance of Force Free Animal Professionals provide excellent tips such as keeping your senior dog's nails trimmed to help them remain steadier on their feet and prevent toe and carpal arthritis. Keeping your dog's weight down is always important, but even more so as they age and find movement more difficult. Mental enrichment is as important now as when he was younger. Like I mentioned above, casual sniff walks are very rewarding. Many dogs love to go on car rides, use food dispensing toys, swim, and play with you. Whatever your dog enjoyed doing when he was younger, he may still enjoy as a senior. Just make sure the activity is modified to accommodate his physical status. Then there is the question of whether to bring a puppy into your home when you have a senior dog. My advice is if you do so, it is preferable to bring in a puppy that won't grow into an adolescent that is considerably larger than your senior dog. Adolescents and large puppies can accidentally hurt senior dogs with rough play. If your dog loved playing with other dogs when he was younger, he may enjoy the company of a puppy and it may bring back some of his playfulness. However, more often than not, I see a puppy is more of an annoyance to an older dog. If your dog never liked playing with other dogs, then this is definitely not the time of his life to bring in a puppy. If you do have a puppy with a senior dog make sure you observe and interrupt if the puppy won't leave the older dog alone.