Service Dog Lends An Ear
May 7, 2020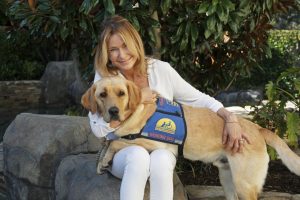 When Newport Beach resident Lisa Westerhout goes out in public, there's only one thing that sets her apart from the denizens around her — a 3-year-old Golden/Labrador Retriever mix named Arrow, who sports a blue vest emblazoned with a gold logo.
Canine Companions for Independence, it reads.
It's not a fashion statement so much as an indication to the general public that the dog, while adorable, is performing an important job.
Arrow was raised and trained from puppyhood by the Santa Rosa nonprofit Canine Companions for Independence and is one of 268 active hearing service dogs capable of alerting a deaf person to important sounds in their environment, from a crying baby to a smoke alarm to the ring of a cell phone.
His set of capabilities is a lifeline to Westerhout, 48, whose hearing loss began when she was in the third grade and got progressively worse until she was almost totally deaf.
"If I were to stand next to a jet engine, I would barely hear it," she said of her natural hearing.
Although she's been fitted with high-powered hearing aids and a cochlear implant — which bypasses a damaged ear to send signals directly to the hearing center of the brain — the devices can be cumbersome and difficult to sleep in. Arrow lets Westerhout be free of that, and more.
He'll nudge her if he hears one of her children call out her name from downstairs, or if her cell phone is on vibrate but not directly on her person. She takes him to Costa Mesa's Waldorf School of Orange County, where she is a counselor, and brings him on trips.
If she's cooking meatballs, Arrow will even remind her to set the timer.
"He's so extremely good at his job," Westerhout said. "He's very, very observant."
Arrow's keen responses are the result of more than 250 hours of training he's received through Canine Companions for Independence, a group that provides service dogs to people with disabilities free of charge.
Puppies are bred for qualities and behaviors that will assist the dogs in their work, said CCI senior instructor Ken Reid, who oversees hearing dog training at the Santa Rosa location.
At around 8 weeks old, they are placed with raisers, who help socialize them and prepare them for up to nine months of training they will begin somewhere around 18 months of age.
"Puppies are returned to one of six training centers. That's where the dog gets its next phase of professional training with an instructor," Reid said. "Along the way we'll start to see the dog's individual strengths and weaknesses, so we'll start to select them for specialized tracks."
Canines learn skills specific to the individual they will serve — CCI trains companion dogs for children, adult disability service dogs, PTSD service dogs for veterans and hearing dogs like Arrow.
"These dogs help people become more independent and not have to rely on other people for the rest of their lives," said CCI spokeswoman Stacy Haynes. "The end goal is to enhance the lives of people with disabilities."
After dogs complete training, clients come for a two-week session to learn more about living with a service dog and be paired up with pooches who, in turn, learn customized tasks and commands before heading to their new homes.
Since Westerhout returned to Newport Beach with Arrow in late November, she's been amazed at how well he executes commands and alerts her to sounds.
But, for her, another important function of a hearing dog is that they act as ambassadors to the public, opening the doors to conversations about what she calls her "invisible disability."
"(Normally), people think you're rude because you don't respond to them. They think you're not very smart because it takes you a while to piece together what they're saying, or they think you're crazy when you respond to them in a completely different way," Westerhout said of the social difficulties often associated with hearing loss.
"Taking him out draws attention," she said. "I get to talk to people and share about my invisible disability. It's just life-changing."