Service Dog Sinatra
July 7, 2020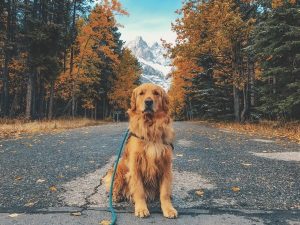 Sinatra is a Golden Retriever Service Dog who has been traveling throughout North America (USA, Canada, and Mexico) since December 2016. The Travel Dog not only loves to make tours and stopover different places but also to spin interesting stories and share fun facts related to every place he visits. Currently, the @alfrescodog has over 175k followers on Instagram. The owner of this adventurous dog feels a strong connection with Sinatra and finds meaning in the duo-travels they make. While sharing his thoughts related to what he does, he said: "The account's objective is to inspire people to take their dogs with them and explore life together. To strengthen the bond between humans and dogs. Whether that's a long road trip or going out for a stroll in a different part of town, we believe there's adventure everywhere."
Traveling is considered to be one of those activities that allow the traveler to feel connected with nature. While it is not always possible for everyone to take out time from their busy lives to taste the pleasures of adventuring into unknown lands, social media has enabled millions of people to partially fulfill this desire by following and living vicariously through those who have been there. @alfrescodog is one such Instagram account that allows you to not only view amazing pictures of a Golden Retriever dog while he travels the world but also to read the stories that make all those places unique.
To illustrate the quality of the stories shared by this traveling dog, have a look at the above picture. Sinatra was visiting Miami, Florida, where he posed for this photograph. And like hundreds of stories shared on his Instagram account, this one also gained a lot of traction. Here he narrates a Gilded Age upper-class story about love, infidelity, blackmail, a big scandal, humbler beginnings, and a great comeback. He moves on to share a detailed account of the whole plot in several posts, which can be found on his Instagram page.
Or how about the picture below? Here he tells us the story behind the Margherita pizza. Its toppings are basil (green), mozzarella cheese (white), and tomato sauce (red). Did you know they represent the colors of the national flag of Italy?