Service Dogs Adjust To Social Distancing
May 1, 2020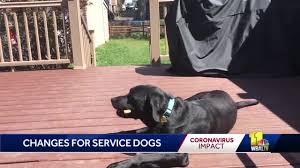 Wednesday is International Guide Dog Day, and the Guide Dog Foundation for the Blind said the coronavirus pandemic has created some unexpected challenges.
"It can't really be put into words how life-changing (the dogs) are, but they really just help break down boundaries and living life with very few limits," said Samantha Embrico-Custer.
Embrico-Custer and her guide dog, Leo, have been having some couch time. Like most people these days, she's working from home.
"It has definitely been really strange because he obviously has no clue what's going on, so he just is navigating as he always would," Embrico-Custer said.
Embrico-Custer, who is legally blind, works at a university in Philadelphia and teaches dance. She said not being on the move all the time is strange for Leo.
"He's used to the routine where we're constantly going for traveling to work, and we're not really getting around work or taking public transit, so he has a lot of time to be stimulated," Embrico-Custer said.
She said the pandemic has created a situation service dogs aren't trained for: They don't know how to social distance and they don't know how to wait in line outside of stores.
"The way that I navigate is by telling him to find the front door. And so he's going to try to get me inside, he's not going to know to get in line behind the person standing outside," Embrico-Custer said. "And also navigating through a store, he's not going to know to stay 6 feet away from someone, so that could be a little stressful."
Embrico-Custer said the best advice right now is if you see a service dog in action, let them do their job and have a little patience.
"Encouraging the general public to be understanding when they see a service dog, that that handler is entering a new situation and to just have patience with them," Embrico-Custer said.