Service Dogs Are Essential During This Pandemic
May 1, 2020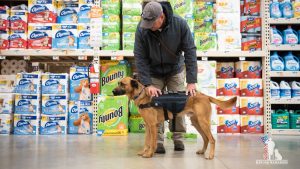 In the midst of this global pandemic, service dogs are more essential as many who utilize their services battle with Post-Traumatic Stress, Traumatic Brain Injury and/or Military Sexual Trauma.
K9s For Warriors says social distancing and the economic stress caused by COVID-19 may trigger negative feelings or actions.
Service dogs will assist in alleviating any negative energy caused by the pandemic.
K9s For Warriors Relations Manager Mike Drafts says service animals help ground their owners and give them focal point outside of what they are.
"It gives them a reason to you know I can't self harm or I can't do this because I have to take care of this animal at the same time as it takes care of me," stated Drafts. "It gives them that relationship that they need to help sustain themselves to stay safe."
K9s for Warriors currently has 16 people in Georgia waiting to be paired with service dogs and 32 people from the state who have already been paid with a service dog through the organization.