Service Dogs Helping Veterans
July 3, 2020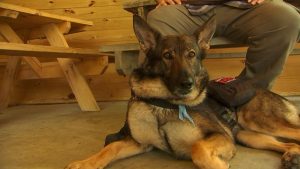 A nonprofit providing service dogs to veterans and first responders at no cost in Pittsburgh is making a real difference. Their actions and local support are making us proud to be from Pittsburgh.
At a Grove City park, five military veterans gathered after being paired with their newest support animals.
"It's just remarkable, I cannot believe it," said James Grossman of Hermitage.
Veterans like Grossman suffer from invisible wounds, like PTSD or Traumatic Brain Injury. With the help of dogs from the Florida-based nonprofit Guardian Angels Medical Service Dogs, they're regaining their independence.
"I would be very sheltered. I would not feel like I would be well to be out in public. Something might flare-up, I might be anxious," said Dustin Schneider of Pittsburgh. "I might have a breakdown with her. She doesn't let me get that far, she just wants me to be okay."
The nonprofit gives 90% of their dogs to veterans and first responders. Guardian Angels founder Carol Borden said they see a lot of need and support from our region.
"We have just a wonderful, wonderful base of corporate sponsors and philanthropic-minded individuals who have welcomed us wholeheartedly over the past five years that we've been there in their area," said Borden. "We have paired dozens and dozens of dogs in Pennsylvania."
Pittsburgh professional sports teams, PNC and local foundations are just a few of the groups supporting the training for each dog, which cost $25,000.
Guardian Angels employee Joanne Werner said she loves being able to give dogs to people that need them.
"Just paying back all the respect that we have for them, giving them something that's going to give them a new normal," she said.
The support is appreciated by Schneider and his dog Spangle.
"Pittsburgh has been a very large staple in my recovery here," said Schneider. Borden said they plan to expand by building their first campus, which will provide more dogs to more people.