Service Dogs Need Homes
September 9, 2020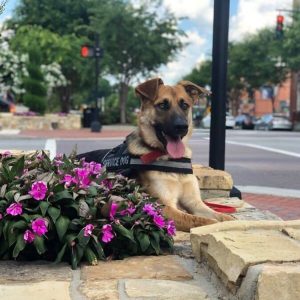 Two service dogs sponsored by SynergyLabs in Hildebran are available for adoption by local veterans.
Koda Bear is 1 ½-year-old German Shepherd mix that was rescued from Henderson County Animal Services. Alvin is a 1-year-old Shepadoodle (a cross between a German Shepherd and a Standard Poodle) donated to the cause by Country Poos and Doos of North Carolina.
The playful pooches have been specially trained to work as service dogs to help their new handler with tasks such as fetching dropped items, opening cabinets, turning on lights and walking beside a wheelchair or walker.