Service dogs welcome in store, but not kids
April 8, 2020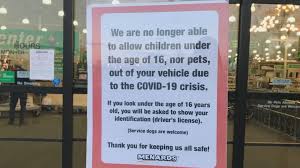 Single parents are expressing their frustration after Menards announced a new policy not allowing children under the age of 16 inside the store because of COVID-19.
The company posted the message on it's website explaining anyone who appears to be under the age of 16 will be asked to show ID. The policy also calls for no pets inside the store. Service dogs are still welcome.
For single mother Tahnesha Anyik, the new policy is a "misstep." She arrived at the store Saturday with her four-year-old daughter to buy toilet paper. She walked up to the doors only to find a sign saying her child was not welcome.
"I just stood there and stared at this sign like this might be the one place that has toilet tissue and I can't go in," Anyik said.
Anyik told 10TV's Angela Reighard as a single parent, it made her feel "frustrated." She is not alone. Parents in other states have taken to Facebook also voicing their concerns about the rule.
10TV reached out to Menards to see if they could provide an explanation for parents. A local store manager connected us to a corporate customer service line. No one answered our calls and we were unable to leave a voicemail. 10TV submitted a comment via the Menards website. A guest services representative sent us a reply via email.
"We need to protect the children above all from this terrible virus, so that is just basic!! Service animals have been and still are welcome," the representative said.
10TV asked the representative if they have any message for single parents, or any parent, who doesn't have childcare and would like to shop at their store. We received no reply.
For Anyik, she hopes Menards will reconsider the policy and make some accommodations.
"It didn't make sense to me really," she said. "[Maybe they could] set hours where the first couple of hours are for single parents or people at-risk."
Anyik said thanks to a friend's spouse, she was able to get toilet paper. Once life begins to return to normal, she is unsure if she will shop at Menards again.