Service Puppy Cheers Up Girl
July 27, 2020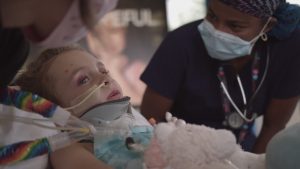 A six-year-old girl paralyzed in a car crash in Wellington last month met a new furry friend at St Mary's Medical Center Monday.
Six-year-old Memphis Rose Hamman was paralyzed from the neck down after a fatal car crash in Wellington back in June.
Memphis lost her great-uncle, Kenneth Graden, in the crash near Lake Worth Road when a driver crossed the median and hit Graden's car head-on.
"It was horrific," Tanya Meade, Memphis' grandmother told CBS12 News.
Meade was also in the vehicle when the crash happened.
"With something like this, there's just no understanding," Meade said. "You can't understand it."
Memphis still has a long road to recovery ahead of her, but to make life a little bit easier, several local foundations teamed up to unite her with her four-legged service puppy, Juliet.
"This is what we're all about, locals helping locals," Lori Griffith from the Chasin' A Dream Foundation told CBS12 News.
Griffith first received a call from Memphis' family after the crash and was able to connect them with the team at "Furry Friends" who happened to receive a new service dog for training on the exact same day that Memphis was injured in the car crash.
"She's always just had such a soft spot for dogs," Gayrene Meade, Memphis' mother told CBS12 News. "When she found out she could have one – I mean to see that smile on her face, there's nothing better. "
The puppy will report to a training "boot camp" for the next year while Memphis undergoes rehab at Shriners Hospitals for Children in Philadelphia.
A donor from Jupiter donated nearly $40,000 to pay for Memphis and Gayrene to fly to Shriners next week, but the family's medical bills are sky high.