Shelter Dog Heads To The White House
November 17, 2020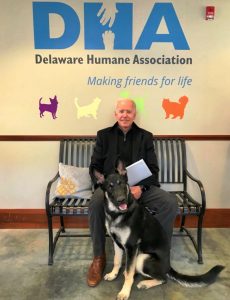 Delaware's own Joe Biden is heading to the White House as the projected winner of the presidential race and, now so is a dog from Delaware. Major, a two-and-a-half-year-old German Shepherd, was adopted by the Biden family from the Delaware Humane Association in 2018 and will be the first shelter dog to be inside the White House. He'll join the Biden's other German Shepherd, Champ, who did not come from DHA.
Patrick Carroll, executive director of the DHA, said Major was part of a litter of puppies that were surrendered.
"They actually were sick, so we had to put some medical care in, nurse them back to health; they had gotten into a toxic substance, so they needed some major medical care, they went to emergency," he recalled.
The dogs entered a foster home, and ultimately Major wound up in his fur-ever home after Joe Biden and his grandchildren paid the shelter a visit on Easter Sunday in 2018.
"He's a very nice dog; I believe he was the largest of the litter, the only male, so he saw the story–I believe his daughter told him," said Cathy Blankenship, the adopting counselor at DHA at the time of Major's adoption.
"I remember he was very calm, the dog. Major was very well-behaved…very friendly," said Carroll. Carroll said Major will be a perfect fit for the White House.
"I'm not worried about him in the White House at all, he'll fit right in, in terms of he's well-behaved," he said.
German Shepherds, are a protective, highly intelligent breed, that often serve as police K9s. Biden's dog underwent specialized training too, and Blankenship remembered a poignant moment in what was otherwise a normal adoption process.
"He talked to us a little bit about brain cancer with his son, Beau, and how they're training dogs now to detect cancer in people, and he was very very on-board with that and was really interested in it," she said.
She said Biden also joked about Major: "'He may be going to Secret Service school.'"
And while they don't usually do house calls, the DHA would make an exception to see Major at the White House.
"I think it's going to be great to see him," Blankenship laughed. "I think the staff should be invited up there to see the dog."
"Wouldn't that be great to say–we're just checking on Major?" Carroll said.
Blankenship said the first shelter dog in the White House will help spread DHA's main message–adopt don't shop.
"It's very important. I can see people just wanting now to rescue…he was a vice president, now he's going to be the president, and he went to a rescue for a dog. I think that's going to bring in a lot of help for DHA," she said.
Carroll said more dogs may find their fur-ever homes as a result.
"Whether it's just your local home here in Delaware or in the White House it's still a home and that's what most important–every animal wants that and needs that, so I've heard people thinking of DHA about 'well if their dogs are good enough for the White House, they're certainly food enough for my house,'" said Carroll.
But DHA was already experiencing an uptick in adoptions before the Biden news due to the coronavirus pandemic. With more Americans working from home than ever, people are turning to shelters to find some company.
"It's mostly because they're at home. So many people say, 'oh I'd love to get a dog but I just don't have time, or I want a dog, but I work too many hours, or I don't have time to train a puppy…' so that's just been a game-changer," said Carroll.
It's a good problem to have.
"People have gotten a little impatient because they miss out on a dog or cat that they wanted; we can't keep 'em in, we have plenty of homes," he said.