Sniffer Dogs
July 7, 2020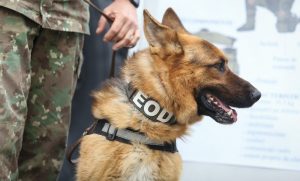 The German military, in cooperation with the University of Veterinary Medicine in Hanover, is working on training various breeds of sniffer dogs to detect COVID-19 in humans.
Military sniffer dogs are being trained in Germany to detect coronavirus in human saliva by the Bundeswehr and the University of Veterinary Medicine Hanover, Foundation (TiHo). A group of 10 dogs, including German shepherds, spaniels and retrievers, are being trained by the military's animal training facility near Ulmen.
The dogs are being trained using saliva samples from infected people. But before you worry about the animals' safety – the training samples used to train the dogs have been rendered chemically harmless.
Sniffer dogs can detect drugs and explosives by their molecular composition, as well as being able to smell various kinds of cancer and the hypoglycaemia of diabetes. Their spectacular abilities are what moved scientists to research sniffer dogs' ability to detect the coronavirus.
So far, the dogs have a success rate of approximately 80 percent. However, it is still yet to be determined if the results will be as successful with active coronavirus samples. "This has to take place under completely different conditions, after all, we have to be sure that nobody can get infected with the highly infectious samples," said TiHo doctoral student Paula Jendrny.
The military dog training school has said that if it is possible to train a service dog to detect the virus then there "will need to be a discussion in which civil and military areas these dogs should do their work."