Soon To Be Service Dogs
May 26, 2020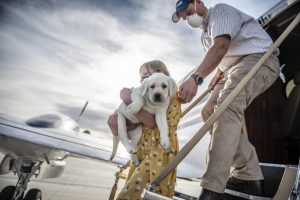 On Friday afternoon, a plane touched down at the Sunport with a handful of adorable yellow Labrador puppies inside – each destined to be a service dog to those with disabilities. The pilot, Jeff Stewart, lowered the plane stairs before his 7-year-old daughter Emma delivered the 2-month-old furballs – Tucker, Taz, Rosco and Rabbena – to their "puppy-raisers," who will care for them until training time.
The operation is one of many being done through a partnership between Canine Companions for Independence, a nonprofit that provides service dogs free of charge, and private pilots like Stewart around the country.
"During a time of such great challenge, it's wonderful to be involved in something so positive," Stewart said.
When the pandemic presented a problem for the organization, which typically relies on commercial airliners, Stewart and a handful of other pilots stepped in to make sure the pups get where they're needed.
"It's a much more pleasant travel experience than being put in a crate," Stewart said.
So far, they have delivered 100 of the 160 pups from the nonprofit's headquarters in California to puppy-raisers in Southern California, Colorado, Washington and – as of Friday – the Land of Enchantment.
After spending the better part of two years with the puppy-raisers, the dogs will head back to the headquarters for formal training and, eventually, be paired with combat veterans, victims of abuse and people with a variety of disabilities.
The puppy-raisers all gathered around the plane as each affectionate puppy was placed into their arms. Squeals of joy could be heard over the drone of plane engines with every reveal.
Last in line, first-time puppy-raiser Sandy Stulberg shook with excitement.
Finally, it was her turn and Emma carried a jetlagged Rabbena from the plane and placed her in Stulberg's arms.
"We are so lucky to have you," Stulberg said, putting her nose up to Rabbena's. "It feels like heaven."
Even behind the cloth mask, there was no doubt that Stulberg was beaming as she held Rabbena in the crook of her neck.
"My heart is singing," she said, seemingly on the verge of tears.
The happy kind, of course.