Strip District's Colony Cafe, Pittsburgh's First Cat Cafe, To Close Amid COVID-19 Shutdown
May 4, 2020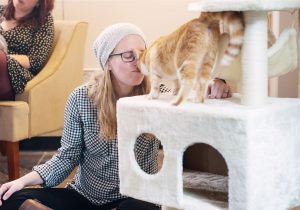 The latest small business to announce it will be closing soon due to economic strains brought on by the COVID-19 pandemic not only affects a number of human employees, but a fair amount of felines as well.
Colony Cafe, Pittsburgh's first cat cafe, will be closing for good later this month after three years in the Strip District of giving Pittsburghers a chance to play with (and potentially adopt) cats while munching on snacks and sipping coffee or cocktails.
"This was a really hard decision, but like anybody in hospitality, it's a tough go," said Sue Hendrickson, who co-owns Colony with her husband, Erik. "So this just kind of did us in."
They announced the sad news via Instagram on Sunday night.
Ms. Hendrickson said the cafe is planning to have a going-out-of-business sale before it shuts its doors for good tentatively May 16, though that is subject to change because they have their lease until the end of May.
The decision to shut Colony down was solidified when the owner of Cafe Linimal — a restaurant that previously only had a physical location in the Strip District's Smallman Galley — agreed to take over the lease for the cat cafe's Penn Avenue storefront, according to Ms. Hendrickson.
Another factor that went through the Hendricksons' mind: The new world COVID-19 may create after social-distancing orders are lifted may not be particularly hospitable to a business like Colony.
"We kind of looked at the big picture, and we're a gathering place," Ms. Hendrickson said. "That's what we do best. We saw a lot of people pivoting and adjusting. … But at its core, Colony is a place where people get together. We're just not sure if people are going to want to get together in a small space regularly."
They plan to keep their website and social media presence active for now, and the main goal at this point is to get the last group of cats who were living in the space's "cat lot" adopted. Ms. Hendrickson said that in the last few weeks she has been able to set up meet-and-greets with folks (who were required to wear masks) interested in adopting a furry friend and have found homes for two cats.
Nine cats currently remain at Colony, and they will be taken back to Animal Friends — which had been providing Colony with the cats who lived in its cat loft 24/7 — if they aren't adopted before Colony's lease expires. Ms. Hendrickson hopes to find them all homes, though she wants any prospective cat owners to think through how badly they want a pet before they commit to anything.
"It's a big commitment," she said. "I've seen a lot of stories about how pet adoption is up while people are home. It can be a 20-year commitment. We're glad people are thinking about companion animals, but we still caution everybody to think about what they're getting into."
Though Colony wasn't the only game in town anymore, they were a pioneering effort in bringing the cat-cafe concept from larger metropolitan areas to the Steel City. If folks want to support local cat cafes, there are still places like The Black Cat Market in Lawrenceville, which is currently offering virtual kitty play times via Twitch.
That's of little comfort to Ms. Hendrickson, though, who said it will be quite "bittersweet" no longer being able to hang out with the cats regularly. Colony had found homes for almost 350 rescue cats, and Ms. Hendrickson is just happy she was able to do so much for both the humans and cats of Pittsburgh.
"We don't want people to be sad," she said. "We're so glad we were able to be a matchmaker to so many people. People are posting photos, 'I got my cat from Colony a year ago.' … We're just grateful to have helped a little piece of those people's lives, make a difference a little bit.