Support Dog Helps Teach
September 22, 2020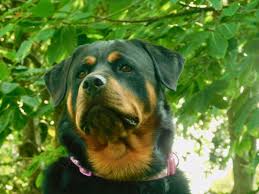 Tess the classroom learning support dog has been attending The Quay School everyday for two-and-a-half years – helping teach up to 40 young people in class each day.
The 95lb, five-year-old Rottweiler seems an unlikely asset but since joining the school, Tess has become a valued member of staff and a classroom boon.
Tess has been in the care of The Quay School's numeracy curriculum leader Erin Jones, since she was just nine weeks old.
And while she helps teach in all classes, Tess has a particular penchant for maths.
"She has always been a special dog," said Erin. "She was placid and gentle from the age of nine weeks. She adores children and seems to sense anxiety and nervousness and wants to support those around her. If my own children were upset she would be near them to calm them."
Erin said: "Tess is The Quay School learning dog and is used to provide therapy to all young people within the school. The value of pet 'therapy' is widely accepted as a powerful aid to stimulation and communication.
"Studies have shown that the presence of companion animals can improve the well-being of student and lower the rate of anxiety, simply by making the environment happier, more enjoyable and less forbidding.
"She encourages active participation in class and supports emotional well being of both young people and staff." And the results speak for themselves.
Student Jayden said: "Tess helps me concentrate. Having a dog in the school gives the school a lot more benefits and makes us want to be here."
Belles added: "You stroke her while you work for comfort and reassurance. Having a dog is the best thing. Tess has changed my perception of dogs, especially Rottweilers. "
And Kieran said: "She is a conversation starter."
Callum explained: "She helped me settle into the school when I started."
Teacher Bryony Curtis-Turner said: "Tess calms people down and relaxes them."
Tess was born in Winchester and has since been brought up in a family environment with four children and has been exposed and socialised in many situations.
Tess has had a litter of puppies, many of which have become or are due to become therapy or service dogs.
Assistant head Lee Wilkins said: "Tess has been a huge success since we started using her at school. She works across in multiple bases across the school working with a range of young people with complex needs.
"Tess is seen as one of the staff and was even mentioned as part of the feedback during our most recent OFSTED inspection. There is a real affection towards her particularly by the young people of the school."