Suzanne Clothier makes training fun for dogs and people
March 26, 2020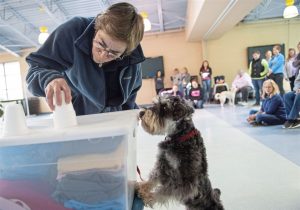 Magnes is just four months old, but owner Sarah Tomakich has ambitious plans for him. She's a psychotherapist, and she hopes her black miniature black poodle can earn certification as a therapy dog and go to work with her when he's about 2.
Ms. Tomakich traveled from Lansing, Mich., to Pittsburgh's North Hills to spend a weekend working with Suzanne Clothier, an internationally-acclaimed dog trainer and author.
More than 30 owners, some of them professional dog trainers, also came. The emphasis was on training dogs for therapy visits — animal-assisted therapy.
"Treat the animals like you would like to be treated," is one of Ms. Clothier's mantras. "Take the feelings of the dog into question" is another phrase she frequently repeated at the seminar at the Animal Friends shelter in Ohio Township.
Magnes and other dogs traversed a course filled with "distractions" such as a pile of cups and a person using a crutch. The point was to see if each dog continued to focus its attention on its handler.
Ms. Clothier watched carefully, and her comments to the people were always positive. "Relationship Centered Training" is the registered trademark name of what she does.
It's all about the dog and handler working "to build a connection," she said. It's also about making things fun for the dog you are training, according to information on her web site.
All of the dogs I saw were clearly having fun.