The Finders Book
July 7, 2020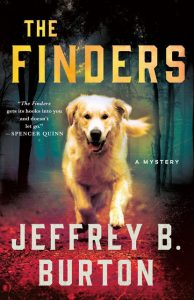 Dog lovers know the healing a beloved pet can bring — offering compassion and unconditional love as one deals with grief, loneliness and emotions. Just plain companionship is a bonus. But service dogs give even more as Jeffrey B. Burton shows in "The Finders."
This launch of a new series works well as a tale about the bond between humans and dogs as well as a private detective novel. As a dog trainer, Mason "Mace" Reid often is running obedience trials for family pets. But his specialty in training dogs in human remains detection (HRD) pays him a lucrative salary and makes him a valuable consultant to Chicago area police departments. He already has three perfectly trained dogs, but his new golden retriever Vira has proven herself to be one of the most astute dogs he has ever trained. When she helps him find a young woman who has been kidnapped, Vira and Mace become targets of a serial killer who has terrorized the Chicago area for years.
Readers will want to know immediately how the dogs fare — each is fine and they enjoy treats and lots of play time between jobs.
Burton keeps "The Finders" on a short leash as he melds solid suspense with a strong look at how service dogs work and enhance investigations. Vira is a true heroine but Burton makes sure to keep her behavior and skills believable. Her abilities are in keeping with the heightened sense of smell that dogs possess. Vira is a great dog, but she's a dog not a person with four legs. In Mace, Burton sculpts an intriguing character — an appealing, likable man who has found comfort in dogs but also knows how to have relationships with people.
"The Finders" firmly puts Burton in the growing category of mystery authors whose sturdy plots show how service dogs work with people in solving crimes. Readers will look forward to more adventures of Mace, Vira and the rest of the pack.